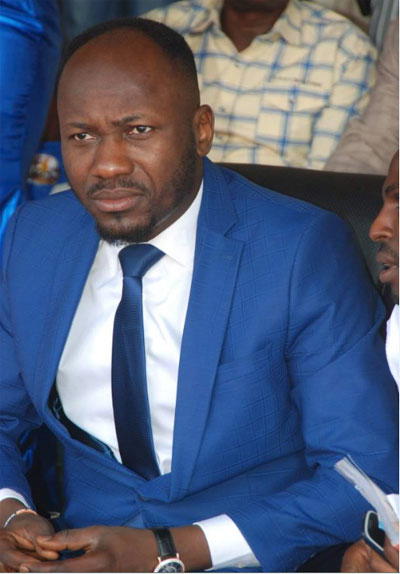 Apostle Suleiman
General Overseer of the Omega Fire Ministries, Apostle Johnson Suleiman, has returned the swipe taken at him by the Special Assistant to President Muhammadu Buhari on New Media, Lauretta Onochie, describing as a poorly-executed hatchet job and barefaced lies, the tweet on Sunday, in which Onochie castigated him on the outcome of the recently concluded Governorship election in Ekiti State.
Onochie had quoted Apostle Suleiman to have said that God told him expressly that APC was finished in Nigeria and Nigerians would see how God will disgrace the party in the July, 14 Ekiti Governorship election.
She had referred to Suleiman as a "Pastor who is not in talking terms with God but who continues to lie with God's name."
However, through a statement by the Omega Fire Ministries Spokesman, Mr. Phrank Shaibu, Apostle Suleiman said "It is common knowledge that the quality of media management in the nation's presidency has taken a nosedive since President Muhammadu Buhari took office, but the presidency hit a new low on Sunday when Onochie threw all pretences to the wind to rubbish a man of God with her unguarded vituperations and outright spewing of hate."
He said said even if a primary school pupil had written that tweet, the lies told therein could not have been so recklessly blatant and so devoid of any shred of professionalism.
Apostle Suleiman's Spokesman said Onochie lifted the purported prophesy from the wall of a facebook user who has since pulled the post down after discovering that it was false and unverifiable.
"Isn't it unbecoming that a presidential spokesperson is propagating an unverified report? Apostle  never made the purported statement being credited to him at any fora and  I challenge her to provide a contrary source to the one I just mentioned or produce any shred of  evidence to support her claim," Shaibu queried.
Continuing, he said, "But we hasten to say that we sympathise with Lauretta Onochie as we know that life itself has not been fair to her. Our appeal is that she should not vent her frustration on the church. The other day, it was the Christian Association of Nigeria (CAN) that she attacked, today, it is Omega Fire Ministries. Who knows which Church is next?
"After careful examination, we think that Lauretta Onochie is burdened by the challenges of life and is gradually going off her rocker. If not, why should anybody in his or her right frame of mind, not even a presidential aide, sit down in one corner of his or her room, pick up a fable on social media and then begin to broadcast it on social media?"
Shaibu said contrary to Onochie's assertion, Apostle Suleiman is a non partisan man of God, whose constituency is the church and has people of different political divides as members.
"Our major point of departure from the Buhari-led administration is the senseless massacre of harmless Christians across the country and Omega Fire Ministries will not keep quiet until the day Christians and Nigerians are at large consider their country as a safe haven." the statement said.
Below is the video prophesy: