Abuja – National Chairman of All Progressives Congress (APC), Mr Adams Oshiomhole, said heavy security deployment for Saturday governorship election in Ekiti was necessary in forestalling breakdown of law and order.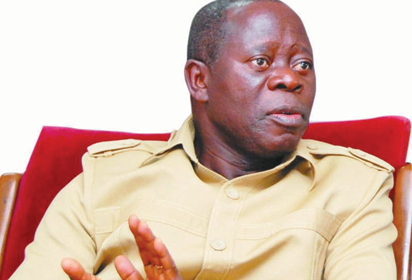 He stated this on Monday in Abuja while reacting to the deployment of 30,000 policemen to the state for the election.
Oshiomhole spoke after a closed-door meeting with the British High Commissioner to Nigeria, Mr Paul Arkwright, who visited him.
He, however, added that it was not the number of officers deployed that mattered, but their effectiveness in ensuring safety of voters and ballot boxes.
He said that heavy presence of military and the police was required at elections, especially in Nigerian, "because the rigging machine is serviced by hardened criminals who are often hired by politicians.
According to Oshiomhole, such criminals usually carry AK-47 Rifle on an election day and the police could be overwhelmed.
"We shouldn't worry about how many officers are deployed. I think we should all pray that however people are deployed, that in the end we are not counting dead bodies.
"My experience in Edo as governor is that you will hear stories of how many officers are deployed, but in the end, you will find no policemen. I have seen that in Edo.
"The important thing is that regardless of what the police chooses to do, regardless of the number they choose to deploy, let us ensure that those who are going to vote are safe and that the votes cast are secured," he said.
Oshiomhole appreciated the British Government for its support in promoting democracy in Nigeria and assured the envoy that the Federal Government would do everything to ensure a free and fair electoral process in Ekiti.
He said that the electoral process was more important than its outcome to him and the party.
"We are looking at the Nigerian project in terms of sustaining democracy, not the survival of a particular political aspirant, whether it is on my party platform or in the platform of the opposition," he said.
Earlier, Arkwright had said that his country was interested in Nigeria's democracy, adding that Britain intended to send observers for the election.
"The British High Commission will be sending a team there to observe the election and to ensure that it goes smoothly.
"We want to basically ensure that the people of Ekiti state are allowed to freely express their opinion to vote with their conscience and to be able to do so in a peaceful manner," he said.
35 political parties are contesting in the Ekiti election, including APC which has a former governor of the state, Dr Kayode Fayemi, as its candidate. (NAN