By Emma Amaize
OBARETIN—EDO  State governor, Mr. Godwin Obaseki, has said that the state had joined forces with the Federal Government and other partners to re-establish the country to its former position as the largest palm oil producing country in the world.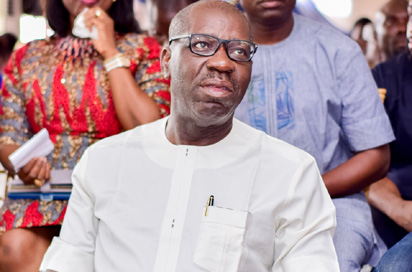 Governor Obaseki stated this at a pre-AGM cocktail, which preceded the Annual General Meeting, AGM, of Presco Plc, a fully integrated industrial establishment at its Obaretin head office in Edo State, Tuesday night.
Chairman, Board of Directors of Presco Plc, Mr. Pierre Vandebeeck, a Belgian, had earlier in his address, said the company was happy operating in Nigeria, especially Edo State, hinting that it was working on doubling its present production capacity by next year.
Obaseki, who commended Presco for a successful year, said: "We are very keen in ensuring that palm oil as a product takes its pride of place in Nigeria. We are working very closely with the Federal Government and other partners to create an Oil Palm Council that will be a driving factor to launch the country back as a major oil palm producing country in the world.
"We just have to retain our past glory because some years ago, we were in the front running and in fact, the number one oil palm producing country in the world, today, we at far fifth or sixth. Therefore, our goal is to restore the country to that position."
"And one of the things we will be doing as a state and hopefully as a country is to create the environment for cultivation of oil palm. In Edo state specifically, we want to put a minimum of 200,000 hectares of land under cultivation for oil palm and rubber.
"We have completed an audit of our forest, unfortunately, the forest has been largely depleted and our strategy is to make part of that degraded forest available for cultivation of these products provided that our partners help us in deforesting the portions that will be recovered," he stated.
The governor added, "In private conversations with the chairman of Presco, I have received that assurance and we will be working with them on deforestation. To show our commitment as a state, we supported the launch of Roundtable on Sustainable Palm Oil, RSPO, in Nigeria and I had a rare privilege when I addressed the European Parliament in Brussels to visit the research facilities of Presco, Belgium and for me it was an eye opener."