By Gabriel Enogholase
BENIN—HUNDREDS of ex-militants, yesterday, took to major streets of Benin, Edo State capital, to protest non-payment of their allowances by the Presidential Amnesty Programme.
The ex-militants, who were with placards of various inscriptions, warned elders and politicians not to interfere in the activities of the Professor Charles Dokubo-led amnesty programme.
The spokesman, 'Gen.' Pere Ejune, Coordinator of Edo State Amnesty Programme, said undue interference from the elders was the major undoing of the former coordinator of the programme, Brig-Gen. Paul Boroh (retd).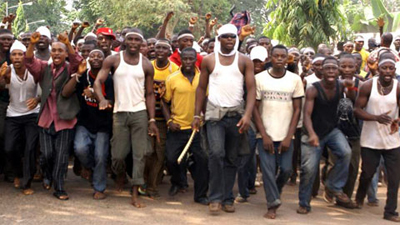 He said: "Dokubo should concentrate on the mandate given to him by reaching out to the ex-militants and oil-bearing communities in the Niger Delta. He should not allow the programme to be hijacked by politicians and elders as was the case in the past."