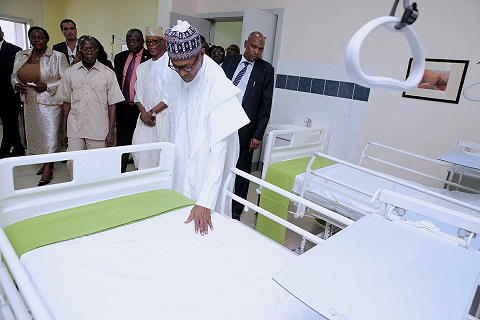 President Buhari inaugurates Benin Central Hospital.
…Renovates Classroom Blocks at Dandago Special School
Nigerian FinTech giant and owners of Remita payment solution, SystemSpecs, on Saturday, July 21, 2018, unveiled major building projects at Aminu Kano Teaching Hospital and Dandago Special Primary School, Kano State, as part of its initiatives to give back to communities.
The building projects which include a Social Welfare Centre and two renovated classroom blocks were funded by SystemSpecs and facilitated by Al-Hassan Social Intervention Foundation.

Speaking at the special handover ceremony in Kano State, the Group Head, Public Sector at SystemSpecs, Abayomi Oniku reiterated that SystemSpecs is committed to adding value in critical areas of humanity through its social investment projects.
"Just as people deserve access to quality healthcare services, children with special needs also require special attention to achieve their dreams. We are delighted to be involved in these projects at the Aminu Kano Teaching Hospital and the Dandago Special Primary School. As we scale up the deployment of our flagship Fintech product, Remita to deepen its value in the financial sector, we are also enthusiastic about contributing positively to our society, especially in the areas of health and education."
Commenting on the initiatives, SystemSpecs' founder and Managing Director, John Obaro said the firm is pleased to give back to the community in a way that will affect a lot of lives.
"With the social welfare centre, the management of Aminu Kano Teaching Hospital will be more equipped to improve the wellbeing of patients, while classroom blocks at Dandago will increase the capacity of the school authorities to provide quality education for children with special needs.
"By contributing to healthcare and education, we are convinced that it is not only to the benefit of the good people of Kano state but for the good of Nigerians in totality," Obaro said.
SystemSpecs is known for its other CSR initiatives in education and ICT, including Code Lagos, Educate Lagos and Ready Set Work, initiatives the firm is participating in as corporate partner of the Lagos State Government, with the aim of improving employability, entrepreneurship among young people as well as equipping them for the economy of the future.
The commissioning ceremony had in attendance the Accountant General of the Federation, Mr Ahmed Idris, SystemSpecs' Executives and members of the Management of Aminu Kano Teaching Hospital.