By Ola Ajayi
IBADAN—THERE  appears to be a crack within the camp of the new kings installed by Governor Abiola Ajimobi of Oyo State, as the Ekerin Olubadan of Ibadanland, Oba Abiodun Kola-Daisi has retraced his step on the recent suspension of local government allowances of the Olubadan of Ibadanland, Oba Saliu Adetunji, saying he would pay the entitlement of the monarch at the end of this month.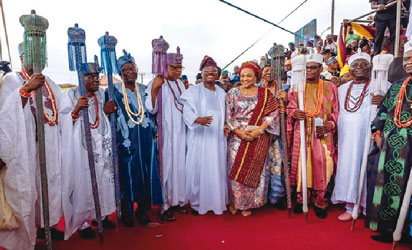 Oba Kola-Daisi, who is the Chairman of Oluyole Local Government Traditional Council, in a letter addressed to Oba Kola Adegbola, Ekarun Olubadan of Ibadanland, said: "To continue in the present stance savours nothing but conspiracy by his junior Kabiyesis against the highest traditional authority in Ibadanland bequeathed to us by our most noble ancestors."
The kings had unanimously agreed that until the Olubadan of Ibadanland recognized their new status as beaded wearing kings, his entitlements from the local government where they headed would be withheld.
But, surprisingly, Oba Kola-Daisi, who was at the meeting noted, in the letter, that he had instructed the secretariat of his local council to release the withheld allowances due to Oba Adetunji.
In the letter, Oba Kola- Daisi said: "Please, recall that at one of our meetings during the month of September 17th at Mapo Hall, a resolution was passed to the effect that we should instruct our various Local Government Councils' Secretariats to henceforth suspend the monthly allowances and emoluments that were being paid to His Imperial Majesty, the Olubadan of Ibadanland."
The Ekerin Olubadan noted that in Oluyole Local Government Traditional Council where he "acts as the Acting chairman on behalf of Olubadan of Ibadanland" had, based on the 2017 resolution accumulated as much as N900,000 which the council must now pay to the Olubadan based on his instruction.
He said: "I have had deep reflection and reasoning on this action ever since and I have come to the conclusion that, in as much as the Olubadan is the authority by which I have the privilege to sit as the Acting Chairman at the Traditional Council meetings, it is not proper to undermine or jeopardise the authority and deny or withhold the entitlements that are due to His Imperial Majesty, the Olubadan of Ibadanland.
"In addition and with supreme humility, I suggest that a similar step should be taken by all other traditional councils on the basis that a delegate/trustee can never assume superior authority over his principal, especially, when as in our own case, we have no independent identity, except as individual members of the Olubada-in-Council."
This, he said was in tandem with "the spirit and intent of the historic reforms of the visionary Governor of Oyo State, Sen. Abiola Ajimobi and a step in the direction of achieving an amicable settlement of the unwanted current dislocations."