Catholic Archbishop of Lagos, Most Rev. Alfred Adewale Martins, yesterday ordained five Jesuit reverends to priesthood. They are Rev. Stephen Eyeowa, Rev. Hiifan Ikyondo, Rev. Benedict Mayaki, Rev. Paschal Ononuju and Rev. Valentine Ossai.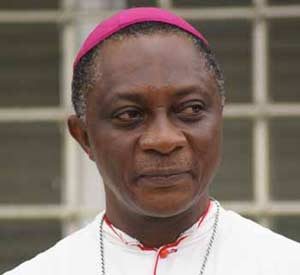 The event was attended by Catholic priests, Knights of Saint Mulumba and Saint John, CMO and CWO members. The parish priest, Rev Fr. Ubong Attai SJ, during the occassion, expressed satisfaction while thanking the organizing committee for a job well done. The Provincial Superior, Very Rev. Fr. Chukwuyenum Afiawari, SJ, also expressed great joy and gratitute to God for a successful event.
The ordination took place at St. Francis Catholic Church,Liasu Road, Idimu, Lagos.