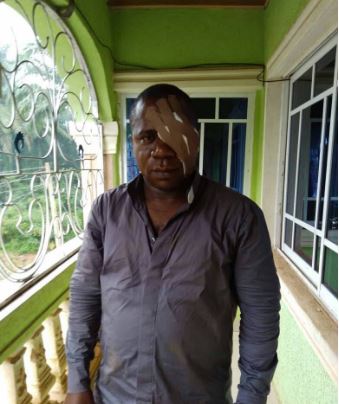 Rev. Fr. Peter Chikwado Udaya, the parish priest of St. Patrick's Parish Ibenda
By Anthony Ogbonna
…As villagers looked on, cheered masquerades
…Rescuer, family members allegedly ostracized by community for helping priests
Two Catholic Priests of Nsukka Diocese in Enugu state were, Thursday 12 July 2018, seriously injured after being mercilessly beaten by masquerades and some alleged youths of Ogbodu-Aba in Udenu Local Government Area of the state.
The two priests, with serious wounds and swollen faces, also sustained injuries in their eyes and mouths.
In a report by Reverend Fr. Matthew Eze, the Director of Social Communication, the Diocesan communication department, said the priests "Rev. Fr. Peter Chikwado Udaya, the parish priest of St. Patrick's Parish Ibenda and Rev. Fr. Daniel Tochukwu Akubue, the parish priest of St. Mary's Parish, Ada-Obollo as well as the assistant Diocesan Liturgist were attacked as they were going back to their duty posts after a brief visit from St. Charles Parish, Eha-Ndiagu."
According Fr. Eze, "as the two clergy men got to Ogbodu-Aba, they were stopped, blocked and shamefully harassed by some masked and unmasked Ogbodu-Aba youths and the slightest attempt by the priests to inquire what was amiss were greeted with rains of lashes and massive downpour of slaps from every side."
He said "the youths rounded them up and made it difficult for them to escape and pounced on them until the two priests sustained serious injuries."
The Director however lamented the attitude displayed by the villagers whom he said resorted to hail and cheer the attackers instead of rescuing the priests.
According to him, "The crowds that gathered as the show of shame and disrespect was going on did not even help the priests. Instead, they encouraged and hailed the misguided youths to go on with their mischievous act."
He said the two priests were eventually rescued by one of the villagers, Mr. Stephen Eze and his wife.
He however said that, reports he got said the rescuer and his family members were later ostracized by the community members for helping the priests.
He said "Fr. Chikwado Udaya, during the attack, sustained a lot of injuries some of which affected his vision.
"In fact, since the ugly incident occurred, he has not been able to see with one of his eyes. He has already undergone an eye operation but the situation is still bad.
"Fr. Akubue Daniel is still receiving treatment," Fr. Eze said.
This is not the first time masquerades have attacked priests in the state. Few years back, some masquerades had blocked and attacked another Catholic priest in one of the communities in the state but took to their heels as soon as they saw another priest, Rev. Fr. Paul Obayi who is said to be a karat coach before he was called by God as a priest.
In Enugu, masquerades often walk the streets during a local festival and while some peaceful ones entertain the villagers, some others go about committing crimes and attacking people while under the cloak of observing the masquerade festival.