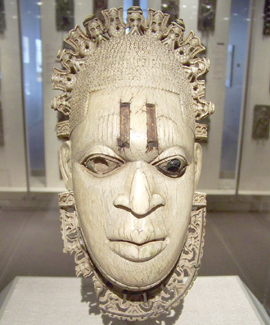 •The Benin Ivory mask in the Metropolitan Museum New York
•The Benin Ivory mask in the Metropolitan Museum New York
By Denrele Animasaun
It is hoped that the Benin Bronzes if or when they return they will not just remain in Benin, which should be the first place they should visit  to welcome them back home. The Benin Bronzes should return with robust education and outreach programmes. It is through these programmes that the relevance and importance of the bronzes will be revealed and their connection to Ife, Oyo, Dahomey, Portugal, Nigeria and the connective history of World Art as a whole.
There are a few Nigerians who are passionate about indigenous Nigerian Art like the Benin and Ife Bronzes; study and collect them not for sale or profit but for history and preservation of culture and heritage. These individuals are completely different from those who are appointed government officials just doing a job and really do not care about or understand the legacy and the importance of these bronzes as great works of Art
I have written three comprehensive studies and practical working programme plans on Education Outreach, Exhibition Outreach and a Cultural Capital Business Plan on Reconciliation and Repatriation of Loans of Works of Art that can be directly applied to the Benin Bronzes.
Also there is the formidable Omo'oba Prince Yemisi Adedoyin Shyllon, whose breath-taking private collection of Nigerian Art has works of art from the great artists of the 16th century to works of contemporary Nigerian Artists. All kept for the nation in his sprawling home in Lagos. He literally lives with works of art. He, as far as I know, is one of the very few most passionate, dedicated and committed collectors of Nigerian Art today. He has the largest and most comprehensive private collection of Nigerian Art in Africa and the world.
His OYASAF Foundation has supported numerous doctorate scholars and artists to research and expand the History of African and Nigerian visual arts, cultures and heritages. However it is quite poignant that most or almost all of the scholars that have benefitted from his Foundation are not Nigerian!
There is also Taiye Olaniyi an ardent and notable Philatelist (Stamp Collector) whose collection of Nigerian stamps shows the transition of the nation over the years. A collection of awe that will be an asset to any museum in the world. He is also an avid supporter of the development of a National Nigerian Museum and Contemporary Art Museum.
Also Olufunmi Odunsi, the great, great, great granddaughter of one of the Oni's of the great Kingdom of Ife whose photographic collections of the Bronzes of Ife and Benin, life of the Oni and life in the Palace over a century is simply astonishing. A priceless collection which further enhances the connections of Kingdoms in Nigeria and their great works of art.
These are just a few people mentioned who are working privately with absolutely no support from Government as far as I know. There are others dotted around the country and even in the Diasporas. They are needed. These individuals will be judged by their direct experience of work in collections and museums and their ability to understand the museums and heritage industry not only in Nigeria but worldwide.
I hope one day these individuals will be called upon by the nation to form a consortium and set out the plans. As I have said for over 20 years I am really not interested in Government support for these proposed museums and works of art loans reparation to the nation. I am far more interested in the multinationals' working in oil and beverages in Nigeria coming together to appoint some of the individuals mentioned above and put them in trust of the collections that were taken from one of the countries they operate in and from – Nigeria. Surely they know the importance of these works that is why they have kept them in their museums for over a hundred years and they also know the importance of national museums in their countries or countries of origin as museums are highly regarded and revered, most of them the size of Nigerian Universities with collections that will take over 6 months to view every object and work of art preserved and presented in them.
It is up to these multinationals to begin the education and exhibition programmes for the Benin Bronzes before and after they arrive; it is to them that we ask to collectively help reconstruct the imperial deconstruction of the images of these Bronzes as not primitive but advanced and civilized, back to the people of Benin, Nigerians and the World.
It is not clear from recent reports that recently made the move to bring the Benin Bronzes back to Benin on loan from the British Museum and other museums. As one recent report stated:
Senior curator at Swedish museum, Världskulturmuseet, Michael Barrett, told The Guardian the move is part of an effort from a "generation of curators" looking to "find ways towards reconciliation." The museum has a small collection of Benin bronze artefacts which it will put up for repatriation.
It can only be hoped that 'the generation of curators' are not playing to liberal sentiments without looking at the reality of preservation, conversation and education… Also it will perhaps not go down well with Nigerians that care about these Bronzes and know their value to be held at bay by a team of curators sent to physically 'protect' and 'guard' the Bronzes from the very people they were taken from.
As usual there is the unfortunate foreboding feeling that all that has been written above will go unheeded and even scoffed by those who are ominously waiting for the Bronzes to return for all the wrong reasons. If loaned without detailed planning the Bronzes will perhaps loose the chance to present and share its relevance to all Nigerians through effective education and exhibition programmes robustly supported intellectually and financially by the multinationals' with support and endorsement by the Government.
If this opportunity for education, exhibition, image and psychological reconstruction of the Benin Bronzes are lost, it will be another silent looting of the Bronzes by the people of which they were looted from.
Be assured it is no easy tasks. The work for education of the Benin Bronzes to the people of Nigeria should begin now and a campaign could be set up to encourage the right people and the multinationals to listen and support. The campaign is not just about bringing the Bronzes back. That has already begun. The campaign is to ensure the effectiveness of their return by presenting their historical and cultural importance to the people of the nation with various outreach programmes and their preservation and conservation. It should be remembered that some of the institutions they are coming from like the British Museum has been in existence for over 250 years, such as the British Museum which was founded in 1753 and opened to the public in 1759. It has been growing in collections and extensions to its buildings ever since.
I am certain that if carefully planned with attention to detail and support as mentioned earlier, the return of the Benin Bronzes will be the long awaited catalyst to kick start the explosion of Nigeria's visual art's history and heritage which will in turn give rise to an understanding of the past and a way forward to the future not just in culture but also in economy.
For the real professionals who really care for heritage, if supported, entrusted and respected to work with full commitment for Nigeria's histories and heritages they are waiting to welcome the great Bronzes of the Kingdom of Benin.
Mr Olaseni Matthew Gansallo. BA, BA, MA, MA, ML, DCA, FRSA, FMA, FSM.
Mr Gansallo is an Architect Designer specialising in Museum Architecture and a Museologist. He has worked with some of the world's most renowned learning institutions and educational organisations. He was Senior Management Fellow 1998-2001 at Tate Britain and Modern London and Education and Interpretation Consultant/Curator National and International Programmes at Tate Britain and Modern London, 2001-2003. He has curated numerous exhibitions including, Black Dance in Britain, Moments, Sankofa Court, Celebration and Contradiction among others.
Concluded