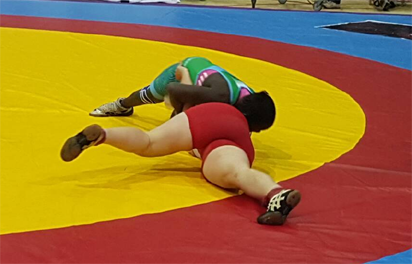 The Nigeria Judo Federation (NJF) contingent on Tuesday arrived in Algeria with eight Judokas to compete in the Africa Youth Games (AYG).
The team has four males and four females to fight for honours after being camped for two months in the Federal Capital Territory, Abuja.
The female team consists of Bose Folorunsho in the 44KG, Ogechi Udeze -52kg, Adija Azeez -63kg and Grace Haruna -78kg.
The male Judokas are Abdullani Ramon -55KG, Edwin Patrick -66KG, Samson Adekunle -81KG and Madu Daniel -100KG with Catherine Ekuta and Toyin Ojo as coaches.
Abimbola Adesinya, Secretary of the federation and leader of the team disclosed that the team arrived in Algeria on Sunday.
The President of NJF, Timothy Nsirim, earlier urged the Judokas to be good ambassadors and compete fairly to bring honours to their fatherland bearing in mind the task ahead.
"I want to congratulate you for the opportunity the federation and by extension the government of Nigeria has given you to represent her at the AYG.
"As you compete in the Games, represent your country well and run away from anything that can tarnish the image of our country.
"Remember that your effort will put your name on the world map,'' he said.
AYG serves as the qualifiers for the Youth Olympic Games slated to hold in Argentina from Oct. 6 to Oct. 18.
Team Nigeria is made up of 280 athletes, 136 officials including coaches, officials of 24 sports, secretaries, medical, anti- doping personnel, referees and umpires, physiotherapists, chaperones and psychologists.
The first batch of 71 athletes and officials in Judo, Rowing, Volleyball, Football and Gymnastics left Abuja on Sunday ahead of the Games.
One hundred and nine athletes and officials from Boxing, Shooting, Tennis, Beach volleyball, Basketball, Canoeing, Hockey and Athletics will depart on Tuesday.
The last batch of 30 cyclists and Handball players, including their officials will leave on Wednesday.
The 3rd African Youth Games start on Wednesday and will end on July 28 in Algiers. (NAN)