Anioma Youth Council Worldwide, AYCW, the foremost Anioma youth body in Anioma, and part and parcel of the Niger Delta Ethnic Nationalities Youth Leaders Council, today, passed a vote of confidence on the duo of Gov. Ifeanyi Okowa, the governor of Delta state, and Sen. Peter Nwaboshi, the Senator representing Delta North(Anioma) in the Red Chambers.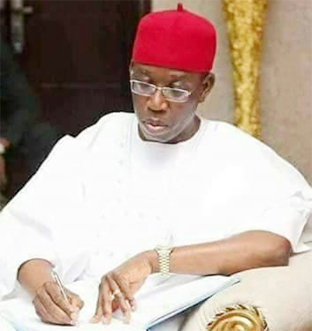 Com. Enudi Marcus, the President General of Anioma Youth Council Workdwide, moving the motion, at the office of the Delta state community Youth leaders Association, where the group held her meeting, described the governor of Delta state as an astute politician, who rose from the ranks and files of political offices, to get to the governorship position, and who is delivering the dividends of democracy to all the nooks and crannies of Delta state, and who is a youth friendly governor, appointing youths to different offices, thereby giving the youths the opportunities to be leaders of today, not tomorrow, Com. Enudi Marcus, commended the governor in engaging the youths of Delta state with trusted skill acquisition training programs, like YAGEP and STEP, and giving the youths envious starter packs to be their own bosses.
He said, removing the youths off the streets with these programmes, has reduced crime rate and agitation rate in Delta state, he called on the people of Delta state to support and vote Gov. Okowa for a second tenure to consolidate of the gains of democracy.
Also passing a vote of confidence on Sen. Nwaboshi, Com. Enudi Marcus, described Sen. Nwaboshi,as a first time Senator, acting like a multiple time Senator, as he did hit the ground running, he commended the Senator for including Ndokwa youths in the Amnesty non violent scheme, which trained and set up over 90 youth, on different agricultural programmes.
Com. Enudi Marcus also commended Senator Nwaboshi, on the sponsoring and passing of many bills in the Senate, like the NDDC amendment bill, which repositioned and gave NDDC a new life, the bill on the proposed Federal Polytechnic Kwale, which a public hearing was recently organized by the Senate committee on Tertiary Institutions and TETFUND.
Com. Enudi Marcus, described Senator Nwaboshi,as a politician with an agenda to make Anioma people and land better, who has also touched the nine LGAs of Anioma with some developmental projects or the other.
When Com. Enudi Marcus, moved the motion for a vote of confidence and endorsement on the duo, they were unanimously accepted and seconded by a loud ovation of the leadership of Anioma Youth Council Worldwide.