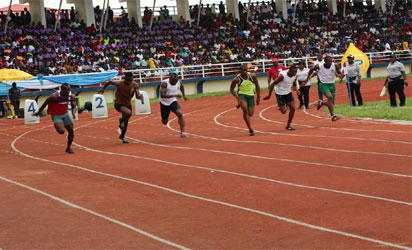 Athletics
Athletics
By Ben Efe
WILL Marie Josee Ta Lou come to the African Athletics Championships August 1-5 in Asaba, Delta State? This is the question on the lips of Nigerian athletics enthusiasts, after the  Ivorian wonder woman posted 10.89 seconds at the IAAF Diamond League in Monaco, last Friday night.
Ta Lou has been consistent in form and spirit, since settling for silver at the 2017 World Championships in London. By yards she is the leading woman in the world 100m so far this season and from all reckoning, she is poised to win her first African championships title having settled for silver in Marrakesh and Durban.
Based on the outing in Monaco, it is safe to conclude that the women sprints titles have been decided: Ta Lou, and her compatriot Murielle Ahoure who placed 11.01 seconds in Monaco are top contenders.
Nigerian officials are banking on home girl Blessing Okagbare-Ighoteguonor to spring surprises even as her form seem to be dipping, after a bright start to the season. She ran 11.32 seconds in Monaco  and  was placed eight with South Africa's Carina Horn who finishing seventh with 11.21 seconds.
"Is Ta Lou coming? Well if she does; then the other women can forget it. The only thing that can stop her now is herself; she is above the other women clearly," said former AFN president and coach Toni Urhobo.
"Also, are we sure Okagbare is coming? and even if she does, I see her limiting herself to events she can do well."
"I understand we may not be presenting our best team  and it is difficult to say what will be the fate of our team in the championships. We haven't really prepared."
Sprinter Agnes Osazuwa Olatunji who is not competing at the Championships, backed her Rio 2016 Olympics women 4x100m team mate to bounce back. "I believe we stand a good chance of  making the podium.
"I strongly believe that Blessing will get her good form in time for the championships. And our relay quartet stands a very good chance of getting the gold all things been equal."