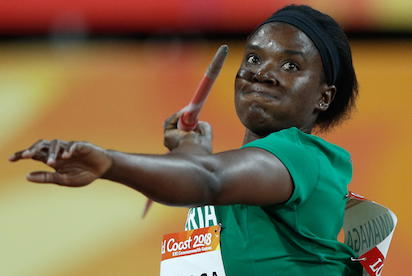 Nigeria's Kelechi Nwanaga competes in the athletics women's javelin throw final during the 2018 Gold Coast Commonwealth Games at the Carrara Stadium on the Gold Coast on April 11, 2018. / AFP PHOTO /
Nigeria's Kelechi Nwanaga competes in the athletics women's javelin throw final during the 2018 Gold Coast Commonwealth Games at the Carrara Stadium on the Gold Coast on April 11, 2018. / AFP PHOTO 
Nigerian and foreign athletes who will participate in the Africa Tour, a one day event meant to test-run the facilities of the Stephen Keshi Stadium in Asaba, Delta, have been trooping in to compete and be the first to make a mark on new tracks.
The event is billed for Wednesday July 18 at the venue, which will in a week's time play host to top African athletes coming to vie for honours at the 21st African Athletics Championships.
"Some of the athletes are already in town and others we are expecting today. The event will go on as scheduled and we are looking forward to seeing a good outing at the brand new stadium," said Olukayode Thomas head of media for the Local organizing committee.
Speaking on the state of the facilities, head of technical committee for the LOC, Yusuf Alli maintained that the stadium was in good shape and ready to roll out for the African Tour and also the African Championships.
"We have worked over time to ensure that we are not behind schedule. The Stadium is ready and also other equipment is on ground."