Lagos—TRADE Union Congress of Nigeria, TUC, yesterday in Lagos expressed shock over Monday protest by the police officers in Maiduguri, Borno State over non-payment of their allowances, among other benefits, warning that unpaid armed security personnel were dangerous to themselves, families, communities and society at large.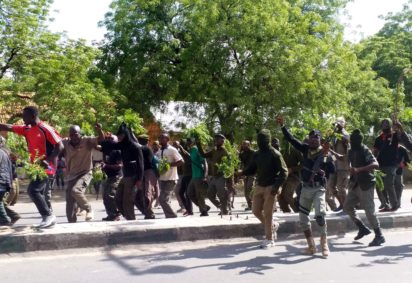 This came as the body called on the Federal Government to probe the matter and punish those that denied the officers their allowances and caused the nation such huge embarrassment.
TUC in a statement by its President and Secretary General,  Bobboi Kaigama and Musa-Lawal Ozigi, respectively, contended that the group considered it unfair and inconsiderate on the part of leadership to deny security officers who had left their families to stake their lives for the peace and security of the nation.
According to the statement: "It is unfortunate that our country has become notorious with everything that hinders growth and development. In saner climes, the welfare of security operatives is not taken for granted. But the reverse is the case here.  Unpaid armed officers are dangerous to themselves, families, communities and the society at large.
"It demeans us as a country that our security officers buy their uniforms, shoes and other accessories. They do not have even decent accommodation. When you deny them six months allowances, what then will motivate them in the war front?
"Since the insecurity in the northeast began, we have lost hundreds of them, if not thousands. Though their entitlements have not been paid to their families, but they have been asked to vacate the barracks. Children are out of school and the widows are left homeless and hopeless. Such irresponsibility on the part of Police Service Commission, PSC, is probably the reason for cases of road blocks and illegal duties where money is extorted from helpless Nigerians especially commercial motorcycle operators (Okada) and Keke NAPEP riders. We do not support extortion in any form, but how does government and police authority expect these officers with families to survive for six months without salary?"
The excuse of late passage of budget is weak. It does not go down with us. It is a perilous undertaking to delay the salaries of armed security officers. Under no circumstance should the police force be made to suffer, most importantly those that are working in war zones. It is not only the police are facing ugly challenge. The soldiers and others will join the protest soon. While we demand prompt payment of all entitlements, we also call on the federal government to probe into the matter and punish those that have caused the national embarrassment."
Subscribe for latest Videos