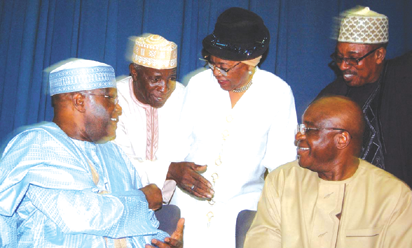 From left, former Vice President, Alhaji Atiku Abukakar; Chairman, R-APC, Engr. Buba Galadima; Senator Stella Omu, former Senate President, David Mark and Alhaji Tafawa Balewa, during the signing of MoU by a coalition of political parties in Abuja, yesterday. Photo: Gbemiga Olamikan.
By Dirisu Yakubu & Omezia Ajayi
ABUJA—Senate President, Bukola Saraki, was on his way back to the Peoples Democratic Party, PDP, after his proxies yesterday initialled an agreement between the party and 38 other parties to sack President Muhammadu Buhari from power.
Among the parties was the Dr. Olusegun Obasanjo-inspired African Democratic Congress, ADC, who resolved to produce a single candidate in the 2019 presidential election.
Yesterday's agreement was witnessed by several political actors who took turns to bemoan the fate of the country in the hands of the ruling All Progressives Congress, APC. Among the witnesses were former Vice-President Atiku Abubakar, and other bigwigs of the PDP.
The occasion also saw the return of the new Peoples Democratic Party, nPDP, to the PDP, following apologies to the former ruling party by the nPDP chairman, Alhaji Kawu Baraje, over their 2013 exit that led to the defeat of the PDP in the 2015 presidential election.
Senator Saraki's spokesman, Yusuph Olaninoyu, when asked last night if Baraje spoke for him, simply said:  "He (Saraki) is in America, when he returns, he will speak."
Former Acting National Secretary of the PDP, Senator Ben Obi, in his opening remarks on the occasion, yesterday, said the various parties chose to come together to salvage the nation and put to end all semblance of nepotism and tribalism.
According to him, President Buhari's administration has left Nigerians more divided than they were.
"We are here to begin a process that will lead to the formation of a government of national unity. We are here to put to an end the nepotism and corruption that the APC government has been known for in the past three years.
"They promised to tackle corruption, revamp the economy and address security challenges and restructure the nation but as soon as they were elected, they denied making such promises.
"We are here to put an end to dictatorial tendencies and this is a war between light and darkness and I can assure you that light would prevail," said Senator Obi.
Also speaking, R-APC national chairman, Buba Galadima, noted that the MOU will send shivers down the spine of the ruling party, adding that since he led a splinter group out of the ruling party, the R-APC has been receiving messages of solidarity from across the world.
Buhari will lose 2019 election — Galadima
For Galadima, President Buhari is fated to lose the 2019 election, adding that if the President knew what awaited him, it would have been better for him not to go into electoral contest at all.
"With what I know, I can tell you that President Buhari will not only lose this election, he will lose his deposits. Let us not forget that the man we will be facing is a military general. We are ready, prepared to take on this fight, despite their intimidations and threats.
"I know him but if I was his adviser, I will tell him not to contest," Galadima said even as he reminded parties to the alliance that the APC has set aside huge sums of money to buy them over in the months leading to the general polls."
Representative of the ADC and former governor of Osun State, Prince Olagunsoye Oyinlola, on his part, described the coalition as "an assignment from God," even as he urged the parties to be committed to the letters and spirit of the MOU.
He said: "We are committed to restructuring of this nation and we must respect the spirit and letters of this understanding.
"When Nigerians voted in 2015, they thought the APC vehicle will take them to the promised land. But three years after, the APC has failed and failed tragically too."
Former Secretary to the Government of the Federation and Minister of Finance, Chief Olu Falae, lamented what he termed the "gross incompetence" of the APC-led government and tasked all parties to the alliance to team up in supporting not only a sole Presidential aspirant but sole governorship candidates, Senatorial candidates as well as House of Representatives candidates across all states of the federation.
"All our votes must go to the Presidential candidate and to the governorship, senatorial and House of Representatives in every state of the federation.
"It is not sufficient to produce the President alone because if we have a President who does not have majority of seats in parliament, there will be challenge as to what the President would be able to do," he noted.
Parties to the MOU
Parties that signed the MOU were the Action Alliance (AA), Alliance for Democracy (AD), Africa Democratic Party (ADC), Action Democratic Party (ADP), All Grand Alliance Party (AGAP), Action Peoples Party (APP), Advanced Congress of Democrats (ACD), Better Nigeria Progressive Party, Democratic Alternative (DA), Democratic Peoples Party (DPC), Grand Democratic Party of Nigeria (GDPN), Green Party of Nigeria (GPN), KOWA Party, Labour Party (LP), Mass Action Joint Alliance (MAJA), Masses Movement of Nigeria (MMN).
Others included the National Conscience Party (NCP), New Generation Party (NGP), National Unity Party (NUP), Nigeria Intervention Movement (NIM), Peoples Alliance for National Development and Liberty (PANDEL), Peoples Progressive Party (PPP), People for Democratic Change (PDC), Peoples Democratic Party (PDP), Providence People's Congress (PPC), Reformed All Progressives Congress (R-APC), Restoration Party of Nigeria (RPN), Social Democratic Party (SDP), Unity Party of Nigeria (UPN), All Grassroots Alliance (AGA), National Interest Party (NIP), Nigeria Democratic Congress Party (NDCP), Progressive Peoples Alliance (PPA), and Young Democratic Party (YDP) among others.
Baraje, Melaye return
One of the highlights of the well attended event was the formal return to the PDP of its former Acting National Chairman, Alhaji Abubakar Kawu Baraje and the lawmaker representing Kogi East, Senator Dino Melaye.
While thanking the PDP for accepting him back in its fold, Baraje said a prodigal son regardless of his sins, would always be received with joy upon repentance from his sins.
"We went astray but we are back now. If a child burns one of his fingers, he quickly retreats the others. I will like to thank you for accepting to take us back," he said.
Like Baraje, Melaye said he had the option to flow with the crowd but chose to return to PDP to remain politically consistent, saying come 2019, "President Buhari will fail because he is entitled to failure."
Dignitaries at the event included former Vice President, Atiku Abubakar, ex-Senate President, David Mark, the governors of Gombe and Akwa Ibom states, Ibrahim Dankwambo and Udoh Emmanuel respectively. Others were Senator Liyel Imoke, Gbenga Daniel, Ibrahim Mantu, Tom Ikimi, Zainab Maina, Ike Ekweremadu and Chief Bode George
The Deputy President of the Senate, Senator Ike Ekweremadu in his remarks assured that the coming together of various opposition political parties to sign the MoU would rescue Nigeria in 2019 and restore her on the path of democratic freedom, joy, security, and development.
He said the mammoth crowd outside the venue which had gathered to witness the birth of a new Nigeria, showed that Nigerians now see hope again and urged the grand alliance not to disappoint the people.
He said: "For three years, what I see on the faces of Nigerians is frustration and anguish. But for the first time, I tell you that I saw joy, I saw people laughing and smiling for the first time in three years.
"Those our brothers and sisters, and investors, who left Nigeria in the last three years, are also rejoicing with you because by this time next year, they will all be back.
"Those factories that were closed are going to come back alive by this time next year and Nigerians will rejoice.
"The people of the South East whom the programmes and  practices of this government are forcing them to have a rethink on their membership of this country, today will rejoice and be happy that a new country that will be fair to all is coming; a country that they will be proud to be part of and continue to contribute to her development.
He enjoined Nigerians to keep faith with the new movement as they days of their anguish and suffering were numbered.
We're waiting for details of the MOU — APC
Meanwhile, the APC has said it was awaiting full details of the MoU before it could take a formal decision on the matter.
National Publicity Secretary of the party, Mallam Bolaji Abdullahi, who disclosed this to Vanguard in a telephone interview, however, declared that those behind the R-APC cannot belong to two parties at the same time.
"When we (National Working Committee NWC) get a formal report, we will discuss it and formally react to it but of course, definitely, if you are a member of the APC and you are signing an MOU with another party, that is anti-party; that is a breach of the regulations. You cannot belong to two political parties at the same time but like I said, we need to know the details before we formally react", he said.
Earlier, Abdullahi had in a breakfast show, Kakaaki on African Independent Television, AIT said rather than exploring the legal option, the ruling party would prefer a political solution to the development.
"If you go back to the statement we issued, we said we are currently investigating if any aspect of our constitution has been breached by this particular action but we would rather prefer a political solution to legal solution. We are hopeful, we are optimistic we will surmount this. To what extent we are going to succeed, I cannot tell but what I know is that we are genuinely committed to dealing with this issue. We are capable of dealing with these issues. When we say there are no factions within the APC, it is because factionalization is a technical term. There are certain factors that have to be present before you can call a group of people within a party, a faction of the party. And you could see that in the previous dispensation when the nPDP left the PDP, a couple of members of the national executive went with them. In this situation, the national executive of APC is intact and it is from that perspective that we argue that we do not have factions within the APC.
"Two, the nature of APC itself brings certain issues into focus. There are what we call the legacy parties, that made up the APC. Some people transited from their identities within the legacy parties to embrace the APC as a new amalgam. There are some people who, more or less, retained their affiliations with their original legacy parties, more than the APC itself. So, when these issues come up, people will begin to ask themselves, who are the people speaking? Different people join different causes for different reasons. Of course, we know those who are APC members and who are genuinely aggrieved and those are the ones we are willing to engage, to have conversations with and there are those we recognize as being opportunistic who are trying to latch on to something because perhaps they have their own grievances that they carry. Then there are those who when we say we are not even sure that they are members of the party, they belonged to these legacy parties but we are not sure if they were truly registered as APC members", said Abdullahi.
He also explained why the party leadership decided to begin its reconciliatory efforts at the National Assembly, dismissing reports that some of those aggrieved within the party are inconsequential.
"It is only natural that when you start this kind of engagement, you have to start from somewhere. You will also agree with me that the NASS is a pre-defined collective. You wouldn't have to start fishing for individuals when you have a group of people with such significant influence across the political field in the NASS. Once you deal with the problem in the NASS, you have solved the larger part of your problem and you now begin to devolve down to individuals. I do not want to get involved in personal issues of who said what and who did not say what. Through out last week, I sat in the NWC meetings where this issue was discussed and I know that even where situations arose and the legal people were saying no, we could not call them parallel congresses because the committees that were mandated by the NWC to conduct those processes did not break and were not divided. So, we could not call what happened parallel congresses. The new national chairman said no, whoever is aggrieved, we must be willing to talk to, we must be prepared to meet. So, it is to that extent that I know, unless something is happening elsewhere that I do not know. At that level, the leadership of the party considers every member important as any serious-minded political party should."
Saraki, still our member
"Of, course he (Saraki) is still a member of the APC and, you know my relationship with him. I have talked about this with him over a couple of days and he had not told me one day that he is no longer a member of the APC. He is in the APC. I am a member of the APC and like many of us, I believe so until he has said otherwise. He has not said otherwise and let us face it: things have happened over the last three years that should not have happened and we have got to where we are today and everyone is looking forward. Now, the challenge is whether we can handle this situation in a manner that everyone would feel that justice has been done. As long as we have people within the party who feel alienated, who feel aggrieved, we will continue to have problems. So, we recognise that on this issue, we are delighted that justice has been served, the Supreme Court has pronounced him innocent of the charges. But you cannot just take away a man's injuries just because that kind of a thing has been done. So, it is now our responsibility at this point to re-engage and to see how we can bring everybody back."
Abdullahi also dismissed fears of a possible mass defection of is party members to another party, describing the activities of the R-APC as negotiation by other means.
"No, I don't see any mass defection. All these are just negotiations by other means. It is politics."