Stranded truck drivers, others at risk….
By Sola Ogundipe & Chioma Obinna
THERE is distress of huge proportions for motorists along Oshodi-Apapa expressway in Lagos. The entire stretch of the road from Second Rainbow Bus-stop and beyond is completely taken over by hundreds of flat-bed trailers and fuel trucks that regularly ply the route, but are often permanently parked right on the expressway causing a gridlock. Every day, thousands of persons plying this route have their journey interrupted and sometimes terminated at various points along the busy thoroughfare.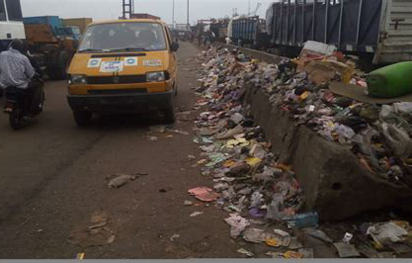 Commuters heading towards Mile 2, Berger Yard, Westminster, Coconut Bus-stop, Tin Can Ports and beyond have become psychologically and physiologically sick of the agonisingly unending traffic congestions along different sections of the 10-lane expressway.
A drive along the route reveals the plethora of immediate and long term health and environmental challenges. Although many of these challenges are preventable,  efforts at salvaging the situation have only yielded little result.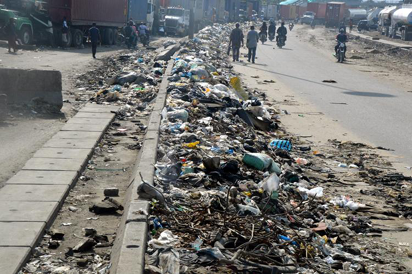 For thousands of residents and people with offices around this axis, the situation is a nightmare that has refused to go away. Everyone is at the mercy of the perpetrators of these health hazards.  The stretch from 2nd Rainbow Bus-stop down to Tin Can is particularly frustrating. In recent times, the Mile 2 – Berger Yard axis has become an eyesore. For months on end, pedestrians, motorists and other regular users of the route have had to contend with effects of the perpetual round-the-clock lockdown.
Hardly does a day pass that Nigerians living close to this busy highway or doing business around the vicinity do not have their hearts in their mouths not knowing if it would be their last day on earth. Findings reveal that just driving or taking public transportation to this axis daily increases risk of respiratory illness or heart disease.
It is common occurrence for a hapless pedestrian to be knocked down by a vehicle or commercial motorcycle driving on the wrong side of the road, or a motorist being robbed at gun-point or an unlucky female passer-by getting raped and manhandled by hoodlums within the identified black spots.
Under the international Environmental Protection requirements, areas close to major highways are prone to pollution levels many times higher than elsewhere. In addition to being an arena for thieves, rapists and other criminal tendencies, the area is fertile ground for health hazards no thanks to activities of these stranded truck operators, scores of who practically subsist in the open road: eating, sleeping and doing all sorts to pollute the immediate vicinity and environs as a result of their activities.
Forced to spend long hours and even days on the road, they readily resort to drinking alcohol, smoking weed and other dangerous substances. It is now common sight to come across a full grown man defecating or bathing right there on the expressway in broad daylight.
"We eat, defecate and sleep here," some of the drivers remarked as they narrated how they cope with the inhumanly unhygienic environment. They particularly complained about mosquitoes which breed in their millions making this place a hell hole.
In this smelly environment, they said: "We must eat whatever we see. We hardly bathe because we cannot go back to our homes. Going to the toilet is a luxury. Where do we go? How many public toilets have you seen around here? We are only going through all these to feed our children and support the family.
"Things are tough and there is no respite. You can see why everywhere there is faeces because people have to eat and, if they eat, they must defecate. When you are permanently on the road thinking of when it will get to your turn to load and there are no toilets, where else do you defecate except on the road or nearby bush?"
Outbreak of a  disease epidemic
As a result, the whole area has become little better than a dumpsite, with heaps of refuse and all manner of waste, including human excrement, littering the road and fouling the environment. With the amount of refuse accumulating by the roadside on this route, an outbreak of a disease epidemic appears imminent. Already, the level of pollution around the area is appalling. The scenario is nauseating to say the least.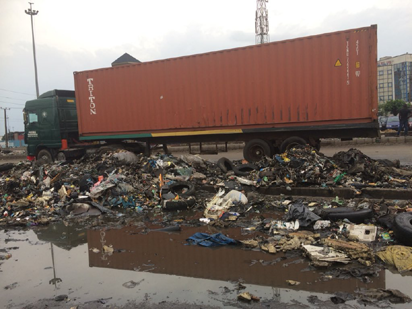 Heaps of refuse have gradually taken over the highway at indicated spots. Coupled with indiscriminate dumping of faeces and with the rains in full swing, refuse is washed into the drains, creating a cesspool of disease pathogens that herald onset of water borne diseases such as cholera, typhoid fever, dysentery and other health challenges for residents in the immediate vicinity and environs. The risk of cholera is particularly high.
Several incidents of cholera outbreaks in Lagos have been attributed to rain which washed sewage into open wells and ponds, where people obtain water for drinking and household needs. Breaches in sanitation and water supply are also indicated, according to the Nigeria Centre for Disease Control, NCDC.
Amid the unsightly environment, food sellers make brisk business even though the stench from the heaps of refuse and faeces is overpowering. Rats, cockroaches and other vermins breed freely within the heaps of refuse that dot the route.
While there are no state or Federal pollution monitoring initiatives to measure pollution over large regions of the Lagos population, roads like the Mile 2-Berger Yard stretch of the Apapa-Oshodi highway are no doubt linked with production and distribution of pollutants that are detrimental to health and welfare of road users and nearby residents.
Health effects of the air pollution from the traffic often include asthma in children, impaired lung function, death from cardiovascular disease and Chronic Obstructive Pulmonary Disease, COPD. The air is fouled and sometimes it is almost impossible to breathe when passing between these trucks.
Constant breathing  of polluted fumes
This danger level is heightened particularly as the actual pollution levels are unknown. As the roadways choke on traffic, it is strongly suspected that the tailpipe exhaust from these trucks – especially tiny carbon particles already implicated in heart disease, cancer and respiratory ailments – may also injure brain cells and synapses key to learning and memory.
For people that suffer from impaired breathing, the prolonged effects from constant breathing of polluted fumes from the exhaust pipes of the trucks, many of which are kept running for hours on one spot, can have deleterious effects on the brain and can lead to early death. Public health studies and laboratory experiments suggest that traffic fumes exact a measurable toll on mental capacity, intelligence and emotional stability.
No one knows whether regular commuters on this route or workers with offices around the area who are breathing heavy traffic fumes suffer any lasting brain effect. But these and other effects of the presence of the trucks on people residing or with offices near the highway show that living or working close to a busy highway is more dangerous than anticipated. Hence, people moving around these areas near the major thoroughfare have reason to be worried about the impact on their health.
Medical experts, however, warn that spending long hours in traffic and unhygienic environments can lead to health hazards, including hypoxia, hypertension, cancer and heat stroke. Erstwhile president of the Nigerian Medical Association, NMA, Prof. Mike Ogirima, warned of impending outbreak of epidemic.
Ogirima who observed that because the drivers and motor boys have been away from their families for so long, they are also exposed to infections, particularly Sexually Transmitted Infections, STIs. He cited the emission of carbon monoxide as a major health hazard aggravated by traffic jams.
"Within the vicinity, emissions from cars can become toxic with carbon monoxide which can blend with the blood and become toxic as the oxygen that we should breathe in will be displaced by carbon monoxide causing the organs of the body to suffer what we call anoxia or hypoxia; that is lack of oxygen."
Ogirima explained that apart from the fumes coming from the vehicles' exhaust pipes, inside the vehicles, there are toxin radicals that can be generated by heat from the materials used in the making of the interior, saying this can instigate cancer in the future. He decried the environmental health sector of the country, saying Nigeria lacked proper solid waste management while the sector is badly managed. According to him, the poor solid waste disposal system attracts rodents and rats. "This problem is the cause of frequent outbreaks of Lassa fever, etc. Filthy environment is a big hazard to our health."
But the Lagos State government said a lot is being done to expand environmental monitoring in the state to counter such ugly incidents. According to the Special Adviser to the Governor on Environment, Mr. Babatunde Hunpe, a senior special assistant on environmental monitoring had been appointed while another official was assigned to oversee waste policing to complement efforts.
Perennial  traffic jams
"These officials will complement the efforts in the area of monitoring and prevention of pollution in the state. We also have the Lagos State Environmental Sanitation Corps, LAGESC, formerly Kick Against Indiscipline, KAI.
"And their primary responsibility is to police environmental pollution. They are empowered by law. Anyone found culpable of violating the environmental law of the state would be prosecuted," Hunpe said.
On public toilets, he said: "Aside the public toilets government is building, we are also partnering with the private sector to do same. We want to appeal to corporate organisations and individuals to also construct public toilets as their own Corporate Social Responsibility, CSR, in the state. The door of our ministry is open for such partnership".
In the interim, the Oshodi-Apapa expressway remains an enigma and just one large chunk of the larger menace of the effects of perennial traffic jams on the health of road users within the sprawling metropolis.
Although the health care community recognises that people residing or operating within reach of major roadways are more prone to hazards of infectious diseases, respiratory ailments, allergies, certain kinds of cancers and heart disease, very little is being done to salvage the situation.
While reacting to the high level of refuse that have taken over the Apapa ports and inner residential roads, Chairman, Apapa Local Government, Elijah Adele Adele, said that the local government is financially handicapped. He admitted, however, thus: "One of the primary responsibilities of the Local Government is to clear refuse and it has to be based on the resources that you have, for now I have two compactors: one of them is as good as gone, the second one is still okay. I am planning to buy a second hand compactor for N18million. But where am I going to get the money?"