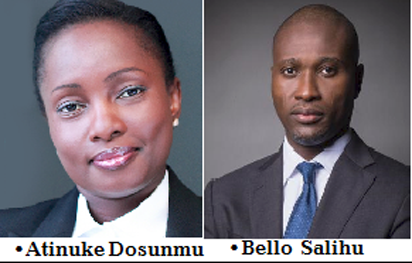 Africa Law Practice has announced the admission of two new partners into the firm's partnership.
This change in the firm's partnership structure, took effect from July 1, 2018.
Speaking on the development, Olasupo Shasore, SAN, said: "We are honoured to welcome Bello to senior management.
He is an excellent lawyer and one of the few Nigerian international arbitration practitioners with significant ICSID arbitration experience. With his hands-on commitment,demonstrable leadership and talent for problem-solving, Bello has had a major impact on the firm and our clients."
Joining ALP from inception, Bello Salihu is a commercial dispute resolution practitioner with significant and varied commercial litigation and international commercial and investment arbitration experience. His casework specialisation is cross-border asset-tracing and recovery.
Atinuke Dosunmu, formerly a Partner at Gravitas Law Firm, joins ALP with considerable transaction experience in Independent Power Projects and in general Energy Sector advice. Her practice areas include aviation, e-commerce, mining and solid minerals, project finance, M&A, trademarks and arbitration. Her corporate commercial advice experience includes work as in-house counsel in the banking industry.
"Tinuke brings to the firm a razor-sharp mind and an uncanny ability to provide creative solutions tocomplex cross-border transactions.
A strong believer in the concept of law as a tool for socio-economic development, Tinuke served on the Lagos State Law Reform Commission as a member of the Ad Hoc Advisory Committee
(Trade and Commercial Law Sub-Committee) on a project that culminated in the enactment of the Laws of Lagos State 2015."
Both partners practice in both the Corporate and Commercial and Litigation and Dispute Resolution divisions of the firm.