Former Super Eagles assistant coach, Sylvanus Okpala has looked at the performance of Nigeria at the just concluded World Cup and concluded that Coach Gernot Rohr should be held responsible for the poor outing of the team in Russia. He also spoke with Jacob Ajom on the leadership tussle that has engulfed the NFF, saying only the Sports Minister can bring the matter to an end. Excerpts:
The NFF crisis, what is the way forward?
I agree with the minister on the matter. The last statement he made, when he said this matter was an internal matter that could be resolved internally. I believe that he has a lot of role to play. I really agree with him that it's an internal issue. And being an internal issue he can resolve it.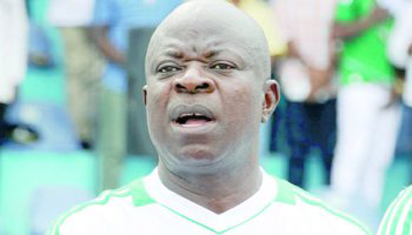 Some people are already accusing this same minister of igniting the fire because, they argue that this case was almost rested before he came.
The point here is that I am not looking at those things. I am pointing at the minister from his last statement. I watched the interview on television in which he made that  statement that it's an internal issue which should be resolved internally. In that wise, he is the one to lead the talks for peace. He has to initiate the peace move and call on Giwa and Pinnick to sit down and settle the matter. That is the only way to ensure peace in Nigeria football because if Pinnick wins through FIFA, there may still not be peace. On the other hand, if Giwa wins through the court, he may still not make for peace either. That is why I totally agree with the minister that the matter is an internal issue which should be settled internally.
I have read some people saying it wouldn't matter if FIFA bans us. That it would afford us the opportunity to reorganise our football. I totally disagree with them. My question to such people is, all those countries that have built their football, was it as a result of FIFA ban? The answer is no. So we don't need a FIFA ban to rebuild our football. Those who are saying that are people I would refer to as bad workman that always quarrels with his tools. They don't have ideas on how to improve our football, that is why they are calling for FIFA ban.
The President of FIFA has spoken and those clamouring for FIFA ban are saying it will be for two years. Are we to dictate to FIFA how long the ban would last? It could be indefinite, until the right thing is done. And at the end of the day, it will still come back to Pinnick because they will still ask you to go back to where you stopped.
Away from the NFF crisis, Nigeria went to the World Cup, and against all expectations, the Super Eagles could not cross the group stage.
Ten days to the commencement of the World Cup, our coach granted an interview with a foreign media outfit, saying he was taking a very young team to the World Cup. He said that his players were young and that they were going to use the World Cup to gain experience against the next World Cup.
Have you ever heard such a thing from a coach? In my entire football career, I have never heard a coach say he would use one World Cup to prepare for the next. This is the first time I am hearing it.
It sounds funny. What if you fail to qualify for the next World Cup? It sounds absurd because you don't have automatic qualification, even when you qualify for the World Cup, how many of those players will still be in the team? My question is, are you going to continue to play them even when they are out of form? And I bet, in the next World Cup, may be only four, five or six of the current squad can make it to Qatar 2022. If he said that in Europe he could have been recalled. Because what that means is that anybody can take them to the World Cup and get the experience, so to speak. It also means that he was not sure of himself and the team he was taking to the World Cup.
France and a few other teams paraded young players too, but nobody ever said they were going to use Russia 2018 to train against Qatar 2022.But I tell you, this team Rohr took to Russia had more quality players than the team Keshi took to Brazil 2014 and the Argentina of four years ago was stronger than the Argentina of this year.
Subscribe for latest Videos