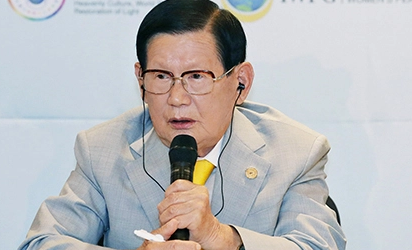 Man Hee Lee
By Emma Ujah, Abuja Bureau Chief
The Chairman of Heavenly Culture, World Peace, Restoration of Light (HWPL), Man Hee Lee, a Korean War veteran, has advocated peace education among youths across the globe.
He made the call at the signing of a Memorandum of Understanding (MOU) for 'Peace Culture City Project' created to develop a culture of peace through cultural exchanges and peace education, in Romania, according to a statement by Jackie Kim, of the organisation's Public relations Department.
The United Nations Economic and Social Council UN ECOSOC-affiliated global peace organizatio is said has been campaigning for peace culture and cessation of wars, worldwide.
As for the role of individuals in working for peace, "Let us leave peace and better culture for future generations as a higher state of culture through exchange of culture of peace," he added.
Chairman Lee stressed that the world could experience a faster pace of development of all people, irrespective of race and faith if we all work for peace.
"All mankind desires peace, nobody wants war. So, if we become one, we will be able to achieve peace. HWPL exists for youth. I hope all will youths will join in peace activities of the IPYG and leave peace as a legacy for our future generations," he added.
"We have all shared our experience during a period of huge political, economic, culture, and scientific, technological transformation. We hope that this working experience will contribute to your future in the next period of big transformation ahead of you," said Hon. Emil Constantinescu, the former president of Romania.
"Tîrgu Mureş City is a multicultural and historic city. HWPL is working to raise awareness of the world in culture, civilization, and history through continuous and constructive peace education and cultural exchange. Through this MOU, we hope that Tîrgu Mureş City and HWPL will be able to make each other's culture more beautiful through "A Culture of Peace – the City project," said Mayor Dorin Florea.
In a related development, Lee urged European leaders to work towards a sustainable peace in the Korean Peninsula and the global community.
His words, "More than anything else, a peaceful world without war would be the greatest legacy to hand down to our children. If a single country achieves peace, it does not mean the world has become peaceful. Peace has to be realized in the entire world. If each person walks in the path towards peace, peace will be accomplished in the global community."