The International Food Policy Research Institute (IFPRI) in Nigeria has encouraged the Federal Government to review universities' curricula to include more agriculture related courses and boost youths' interest in agriculture.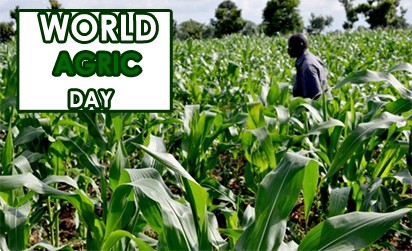 Dr George Mavrotas, the Head of IFPRI, Abuja Office, and Leader of IFPRI's Nigeria Strategy Support Program of IFPRI, said this in Abuja on Monday.
Mavrotas who was speaking on the World Agriculture Day celebration, said that influencing school curricula, especially the country's Universities of Agriculture, would help prepare a new generation of agriculture entrepreneurs.
He explained that, although the Federal Government was moving in the right direction in its agricultural reforms, more efforts were required to fast track the implementation of policies towards agricultural transformation.
Mavrotas also emphasised the need to prioritise access to finance, land governance reforms, and other incentives to facilitate youths' involvement in agriculture.
"Today is the World Agriculture Day, but in Nigeria, we need to make every day, Nigeria Agriculture Sector Day.
"I can also say that the Federal Government of Nigeria in the last few years is moving in the right direction with the Agricultural Transformation Agenda a few years ago and currently with the Agriculture Promotion Policy.
" I can see also some degree of continuity with the former administration's Agricultural Transformation Agenda. So, there is no clear departure with what we have seen before, but instead an effort to improve further on various fronts.
"The government is moving in the right direction, but there are many other policy areas that they need to focus on in order to make things happen and move fast in implementing other major reforms which are still pending in the agriculture sector.
"There is need to intensify efforts to provide the Nigerian youth with attractive incentives to join the agriculture sector, and re-shape the education curricula to prepare the new generation of agriculture entrepreneurs in the country.
" I do not think this is happening currently in the country,'' he said.
Mavrotas disclosed that the institute had been partnering with the federal government by building capacities of agriculture stakeholders and farmers.
He said that the IFPRI Abuja Office since its inception in 2007 had supported various government initiatives in the agricultural sector.
The institute had recently been instrumental in supporting the government to release the Food Security and Nutrition Strategy and it is currently supporting the Joint Sector Review process of the Ministry of Agriculture and Rural Development.
IFPRI was established in 1975 to provide research-based policy solutions to sustainably reduce poverty and end hunger and malnutrition.
Its strategic research aims to foster a climate-resilient and sustainable food supply; promote healthy diets and nutrition for all, transform agricultural and rural economies; and strengthen institutions and governance.
The World Agriculture Day is an annual event, celebrated every June 11. (NAN)