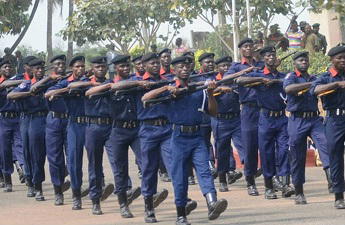 NSCDC
The Nigeria Security and Civil Defence Corps (NSCDC) says it will collaborate with the Ibadan Electricity Distribution Company (IBEDC) to fight against vandalism and theft of electricity cables in Ogun.
Mr Philip Ayodele, the State Commandant of the Corps, made this known at a press briefing in Abeokuta on Monday.
Ayodele said that the NSCDC in Ogun was planning to partner with IBEDC to ensure adequate protection of "these critical assets" to avoid vandalism by criminals.
He said that the corps had stepped up surveillance around the pipelines and electricity installations in the state to put an end to vandalism of critical national assets.
"We have instituted several legal proceedings on suspected vandals of IBEDC cables across the state.
"We have also established a combat team against vandalism of all sorts in order to rid the state of crimes," Ayodele said.
He said that despite the enormous challenges regarding vandalism in the state, the command had continued to be proactive in its duties.
"On June 8, two suspected pipeline vandals died in the pipeline explosion, while a survivor, Segun Animasaun, also died on Saturday, while helping us with some useful intelligence.
"Animasaun had once been a victim of fire explosion during some of his illicit acts and nemesis only taught him a bitter lesson having refused to learn.
"He confessed that he started the illicit act in 2012 when he was 16 years old," Ayodele said.
He said that the NSCDC would not tolerate any act of criminality, especially in the areas of disruption, vandalism and misuse of government infrastructure. (NAN)