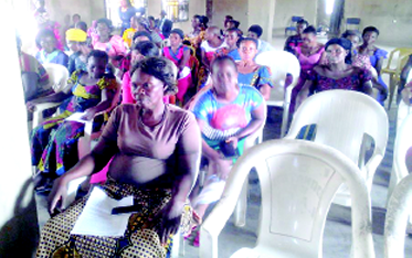 By Nwabueze Okonkwo
ONITSHA – 1,500 orphans and vulnerable persons in Anambra State have been empowered by the authorities of United States Agency for International Development, USAID, in conjunction with the Widows/Orphans Empowerment Organisation, WEWE and Local Partner Initiative in Nigeria, LOPIN.
"The beneficiaries were taught various ways of skills acquisition as well as given loans to enable them cushion the effects of the current economic depression in the country." Also, about 50,000 more orphans and vulnerable persons are being targeted to benefit from the USAID -sponsored WEWE/LOPIN empowerment programmes in the 181 communities of the 21 local government areas of the state's skills acquisition training and empowerment scheme.
LOPIN's Deputy Chief of Party, Miss Ngozi Orame who spoke at Igbakwu Community in Ayamelum Local Government Area of the state, Wednesday, said the vulnerable persons were assembled according to the list released by the various communities. She spoke as the beneficiaries were being issued with certificates of registration to Village Savings/Loans Associations, VSLAs which were registered as cooperative societies. Flanked by the Anambra State LOPIN Programme Officer, Mrs. Uju Efobi, Orame explained that the programme was not designed for money to be distributed to the beneficiaries, but to impact skills that would enable them engage themselves meaningfully in various trades and earn their living and become self-reliant.
Efobi further stressed that the scheme which kicked off in April, 2015, with the enrollment of the vulnerable persons from various communities, was being implemented by WEWE in conjunction with LOPIN, through the South-Saharan Social Development Organisation, SSDO. According to her, the local government areas and communities where the scheme had started include Ayamelum, Anambra East and Awka North council areas, adding that in Ayamelum, Igbakwu, Omor and Ifite-Ogwari communities had benefited, while in Anambra East, Nando, Aguleri and Enugwu-Otu had also benefited.Other communities also, included Ebenebe, Ugbenu, Mgbakwu, Amanuke, Achalla and Awba-Ofemili.
"In their response, two of the beneficiaries, Helen Emeneka and Helen Nebeife, expressed gratitude to the USAID/WEWE-LOPIN team for establishing such a laudable programme which they admitted had changed their lives from vulnerability to independent artisans. Earlier in his speech, WEWE's Monitoring/Evaluation Director, Dr. Charles Uzondu explained that the programmes had trained the beneficiaries from various communities in various skills, including forming themselves into cooperative societies in order to get credit facilities that would enable them become not only self-employed but employers of labour. Uzondu expressed satisfaction that the programme which commenced barely four years ago, had empowered many vulnerable individuals and  groups to the extent that most of them are now self-reliant.
The Improvement Manager, SSDO, Christian Madubueze who represented the SSDO Executive Director, Mrs. Nkechi Igwe-Benita, noted that out of 538 vulnerable children undergoing training, 417 graduated in 2017 and were empowered through the household or care givers (parents), based on their individual needs, adding that they were taught to make soaps, snacks, Vaseline, pomade and balms.