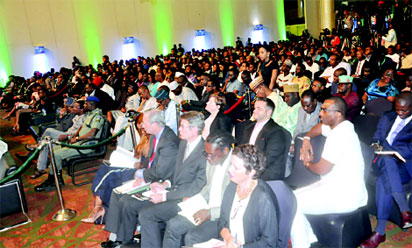 Cross section of participants at the summit
Vconnect, an online service provider, in an effort to promote effective marketing and empower Small and Medium scale Enterprises (SMEs), has reiterated its commitment to built trust between service professionals and customer.
The General Manager of the company, Deepankar Rustagi said this at Vconnet's Business Summit 2018 in Lagos.
He said, "As Vconnect aims to solve the issue of finding a reliable service provider in the industry, so it has created a way of ensuring trust between service professionals and customers on the platform with professionals providing national identity documents and taking a pledge to provide quality services and be trusted at the point of registration on the platform."
He stated that Vconnect has helped qualified service professionals find and connect with real customers at any given time, adding "With the use of the internet, businesses can now leverage the power of having an online presence by increasing sales, saving money on advert and getting more customers than they would have with just an offline store."
Uzebu Uwa from Mastercard who was a keynote speaker at the summit said nothing can earn a business more customers that trust, adding that it is that trust that Vconnect has been able to create between service professionals and speakers.
"There are three pillars in business. First is trust, second is reliability and third is competence. People have genuine needs and we need to build trust to deliver the products."
Vconnect awarded over 30 service professionals who have been able to provide quality, effective and efficient services to customers.