By Luminous Jannamike
ABUJA – The National President, Nigerian Labour Congress, Comrade Ayuba Wabba, 
on Thursday
 advocated the protection of the rights of internally displaced persons, IDPs, and public service workers, especially those in the health sector who operate in conflict areas in the country.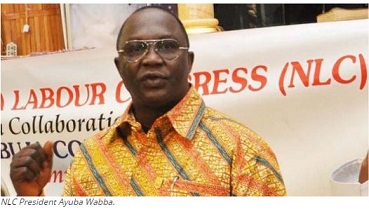 He said the rights to life, personal dignity and better working conditions for these categories of citizens have often been neglected and denied in the scheme of interventions carried out in troubled regions of the country.
Wabba said this in Abuja at a capacity-building workshop organised by Public Service International, PSI, for trade unions to defend the rights of IDPs and their workers to life and quality public services in troubled regions.
PSI is a global federation of public service workers in health, social works, and emergency services sectors with headquarters in Sweden.
The NLC President said: "In all circumstances, the rights to life, human dignity, and better working conditions for workers must continue to be respected.
"In the issue of IDPs within the Nigerian context, public service workers, especially those in healthcare sector are also affected.
"Many health workers have been killed and even displaced while providing services in conflict regions of the country. Therefore, there is need to continue to protect and advance their human and trade rights.
"We will continue to advocate that even in situations of conflict, citizens and workers' rights to decent living and quality public services like health and education must be protected."
Wabba also lamented the spate of conflicts and internal displacement of citizens in the country; blaming social injustice and capitalism for it.
"The country will continue to suffer lack of internal peace and continued conflicts, if the majority of citizens are living in want and poverty while a few individuals are having and accumulating more than they can use. So, at the heart of peace and conflict resolution is social justice.
"Let me also add that peace cannot be achieved, if the issue of capitalism is not tackled. At the centre of governance today is the privatisation of key public service institutions just to pave way for a few individuals to make profit at the expense of the majority.
"Since the issue of privatisation became an a trending topic, conflicts have increased. Even Boko Haram began as a result of denial. So, we are poised to use decent work and decent work agenda to address the issue of conflicts."
Speaking also, the Vice-President of PSI, Mr. Peters Adeyemi, said the problem of insecurity in Nigeria is worrisome and government must be conscious of its responsibilities in that sector.
"We must say it as it is. Any government that is unable to secure lives and properties of all citizens is not qualified to be in office," he said.
Earlier, Ms.Genevieve Genciano, PSI's Migration Coordinator, said Nigeria tops the list of countries with the highest IDPs in the world hence the need to build the capacity of workers, who deliver critical services like healthcare to displaced persons, so that their own rights to life and better working conditions will be secured while they do so.