The Edo State Governor, Mr. Godwin Obaseki, has said arrangements are in top gear for the Vice President, Professor Yemi Osinbajo, to perform the ground-breaking ceremony of the 1, 800-unit housing project being constructed through a joint-venture partnership between the Edo Development and Property Agency (EDPA) and MIXTA Africa, a private real estate developer.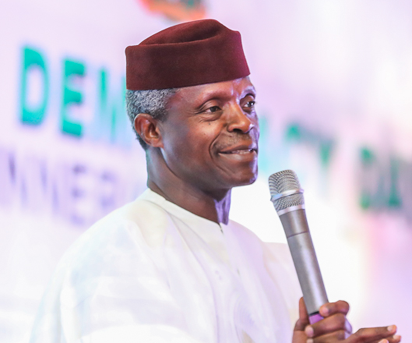 Obaseki said this during a tour of facilities at Time Ceramics Nigeria Limited, located in Utesi, Ikpoba-Okha Local Government Area, Edo State, at the weekend.
He said, "The Vice President will be visiting the state on June 14, to perform the ground-breaking ceremony, to kick-start construction work for the 1,800-unit project to be developed by the state government in joint partnership with MIXTA Africa."
He noted that the state government will ensure that MIXTA Africa sources supply of tiles for the housing project from Time Ceramics, noting that the Chinese firm deploys top-of-the-range technology in manufacturing quality tiles.
Obaseki assured the company's management that the state government will support its growth, adding, "We will assist the company to secure contracts for the supply of tiles for the Federal Government's housing development projects across the country."
Explaining that foreign investors will only be attracted to the state when local investors are doing well, he said, "Our focus is to be acquainted with what the local investors are doing to see how we can improve their businesses. This will be done by ensuring that the business environment is conducive to guarantee profits on investment."
Meanwhile, Executive Chairman, EDPA, Isoken Omo, noted that the agency was working with MIXTA Africa to ensure that the project site is ready for the ground-breaking ceremony, adding that the event would mark the first housing project in the state after 16 years.
She said, "We are committed to this project and want to assure the people that we will deliver on our promises. The project is going to be a major pull for residents and those in the Diaspora to invest in bespoke real estate in Benin. We assure that some level of structure would be on ground for the ceremony by the Vice President. This is to show how serious the state government and MIXTA Africa are to deliver on the project."
Omo added that during the ground-breaking ceremony, balloting would be organised to select the first 30 property owners to benefit from the project, assuring that in a year's time, about 200 units will be ready.
Head, Sales and Marketing, MIXTA Africa, Korede Lawrence-Salu, said MIXTA Africa, would work round the clock to deliver on the project, assuring on delivery of high quality, valuable housing stock.
Lawrence-Salu noted, "after we sealed the deal to construct the 1,800-unit project, we have been inundated with enquiries from those willing to have a stake. So we are confident about this project. We have recorded high interest, especially among Edo people in the diaspora too."