Emma Ujah, Abuja Bureau Chief
The Voluntary Assets and Income Declaration Scheme (VAIDS) has yielded about N30 billion from tax defaulters.
The Executive Chairman of Federal Inland Revenue Service (FIRS) Mr. Babatunde Fowler, disclosed this at the presentation of Certificate of Declaration of the scheme, in Abuja, Wednesday.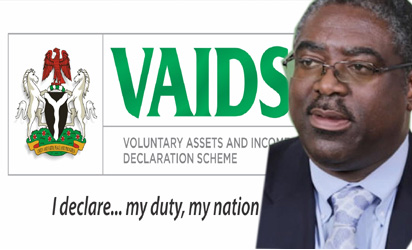 VAIDS will terminate at the end of this month, with the federal government vowing to institute criminal charges against individuals and corporate organizations who failed to take advantage of the scheme to regularize their tax liabilities.
According to the FIRS boss, the federal tax agency was responsible for the collection of 90 per cent of the funds under the scheme, while states collected about 10 per cent.
He said that the exact amount coming into the treasury would not be known even after the Junes 30 expiry date, but until three years after.
VAIDS provides a window for affected tax payers to negotiate payment of their tax liabilities in tranches.
The Executive Chairman urged states Boards of Inland Revenue to brace up for last minute rush as deadline for the scheme draws near, saying that since people generally don't like to pay tax, most of them would wait until the last minute before rushing to tax offices to file their returns.
"One of the outcomes of the scheme whether directly or indirectly is the growth of the national taxpayer database from under 14 million pre2016 numbers to over 19 million in 2018, and we are confident that these numbers will translate into a positive growth in the country tax revenue to GDP ratio when the official percentage for 2017 have been released.
"VAIDS as a project ties in with the Unexplained Wealth Orders (UWO) of the United Kingdom and in m more ways than one shares similar underlying principles with the Multilateral Convention on Mutual Administrative Assistance on Tax Matters (MCMAATM) which facilitates international tax cooperation and provides for all possible forms of administrative co-operation between states in the assessment and collection of taxes, in particular with a view to combating tax avoidance and evasion," Mr. Fowler said.
He added that the federal government would take advantage of the Automatic Exchange of Information (AEOI) with treaty it had signed with many countries of the world to track all assets held by Nigerians, abroad.
As part of the awareness efforts, the FIRS boss said that from June 14, staff of JTB and Federal Ministry of Finance will participate in every Thursday sensitization exercises in states until June end while "the National Tax Policy Implementation Committee is proposing National Tax Day" to be set aside every year for awareness and sensitization on tax and tax related matters.