RIGHT OF REPLY
By Peter Ekeh
THE attention of Urhobo Historical Society has been drawn to an opinion piece in Vanguard(30/5/2018, p. 18), titled "UPU: Urhobo ancestors are in tears." It seeks to defame the current President General of Urhobo Progress Union, Olorogun Moses Taiga, by falsely claiming that he is not an Urhobo man. Indeed, this article makes many false and misleading claims; it certainly distorts the truth with seedy and ignorant statements.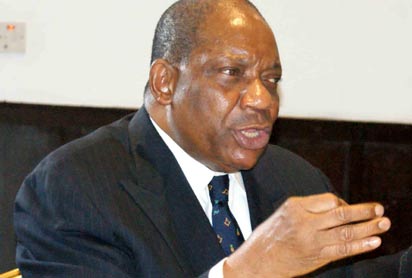 First, we challenge the claimed authorship of the article as fictional. It claims that the first name of the author is "Urhoboyovwi" while his surname is "Ufuoma;" and that he lives in Warri. We have searched, far and wide, for this name in vain. In all probability, this person is fake. It is striking that he glibly claims six generations of Urhobo ancestry without any mention of his hometown, clan, or native kingdom.We challenge him to reveal his identity: what schools did he attend and when? We believe that, unrestrained by any trappings of personal identity, this fake author has committed egregious slander against the UPU President-General and his family.
Second, this writer has maligned Urhobo Historical Society at several points in this article that trifles with the truth. He says that our book on Olomu is being hidden and taken from the shelves. That is arrant nonsense. We have just held a UHS Conference in which that book and other UHS publications were displayed on May 18-19 at PTI Conference Centre, Effurun, and on May 20 at Ogor Technical College. Very  few copies of this book were sold; the rest were returned to UHS Headquarters at Okpara Inland where they are fully displayed in our Library.
Third, this ghost writer totally misrepresents – even lies about – the spirit and letter of Onoawarie Edevbie's profile of Chief Joseph Taiga Zeze, Moses Taiga's father. He rushes his readers to pages 299 and 308 of Edevbie's account, claiming that the UHS author reveals that Taiga Zeze is not an Urhobo man because he migrated from Kiagbodo. But that is not what Edevbie said about Taiga Zeze.
Edevbie began his profile of Taiga Zeze in an overview of Olomu personalities by highlighting three Urhobo patriots who made great contributions to Olomu and Urhobo history during British colonial era. He includes Taiga Zeze among these top Urhobo patriots. Please read what Edevbie wrote: "In a sample analysis, one can identify some of the patriots in the early part of colonial rule in the likes of Ovedje Osadjere, Mukoro Mowoe and Taiga Zeze" (p. 250). Edevbie  then proceeds carefully to give reasons why each of these pioneers deserves inclusion in this exclusive list. For Taiga Zeze, Edevbie's reason is as follows: "Taiga is typical of individuals who benefited from early employment in the services of European traders or colonial authorities, setting an example that many were to follow in efforts to make money to help their families as Taiga did" (p. 251).
Some further historical notes are in order here. Taiga Zeze and Mukoro Mowoe were great personal friends. It was from that friendship that Mukoro Mowoe married his first wife who was Taiga Zeze's niece. Both Chief Ovedje Osadjere and Chief Mukoro Mowoe had high regards for Chief Taiga Zeze as their compatriot and an Urhobo patriot. It is on that great Urhobo man that some mouthy rascal – said to be operating from New York City – is now heaping degrading insults.
Let us follow this ghost writer to pages 299 and 308 of Edevbie's account on Taiga Zeze's profile and his boast that he can prove that the UHS author revealed that Taiga Zeze is not an Urhobo man. The most revealing statement that Edevbie made about Taiga Zeze's origins at page 299 is the following: "Taiga [Zeze] himself came from a cultivated family whose ancestors had moved from the neighbouring western Ijaw town of Kiagbodo, long before the arrival of the White man, to settle in Okpare Olomu" (p. 299). Edevbie adds at page 308 that "Both of [Taiga Zeze's] parents hailed from within the neighbourhood of Okpare where he was born; his mother from the Okogbosu family in Okpare itself and his father, Zeze, from the Matolo family in  Kiagbodo in the Ijaw area of the Western Niger Delta" (p 308).
The revelation from the above paragraph is that this ghost writer has twisted Edevbie's statements, giving his own perverse interpretation of the facts in Edevbie's statements. First, Edevbie clearly stated that Taiga Zeze's ancestors moved from Kiagbodo to Okpare and that Taiga Zeze was born in Okpare. But this ghost writer twisted the facts to say that Taiga Zeze was the one who migrated from Kiagbodo and he suppressed the fact that Taiga Zeze, Moses Taiga's father, was born and buried in Okpare.  Second, Edevbie clearly stated that Taiga Zeze's mother was an Okpare woman who hailed from Okogbosu family in Okpare. But this ghost writer twisted Edevbie's statement as saying that it was Moses Taiga's mother who was from the Okogbosu family of Okpare – all in a crazy effort to say that this Urhobo patriot is no longer an Urhobo man!
The ghost writer's distortion of the UHS book Olomu and Development of Urhoboland & Western Niger Delta is further aggravated by the fact that he totally ignored the book's larger context that is supplied in its Chapter 9. It was ably written by the King of Olomu with the title: "History and High Culture of Olomu." As the King has written, "Olomu's origin is unique in that the founders (Alaka, Oghoro and Igboze) of the kingdom came as immigrants from three different tribes, namely Igbo, Izon and Benin."Olomu's Ijaw founder was Oghoro of Kiagbodo. King R. L. Ogbon bears the regal title of Ogoni-Oghoro I which tracts his heritage to Kiagbodo. He is openly proud of that heritage. So are tens of thousands of men and women of Olomu who are descendants of Oghoro and do trace their heritage to Kiagbodo. By some estimates, up to one-third of the population of Olomu trace their heritage to Kiagbodo. Olorogun Moses Taiga is one of them.
So, of what are these merchants of slander accusing Moses Taiga for which they believe he should be disqualified from holding the office of President General of UPU? It is a strange allegation: They say Moses Taiga has an ancestor who tracts Kiagbodo, an Ijaw town, for his  heritage! It is an accusation that smacks of raw racism against the Ijaw people. Its logic is this: No Urhobo man –even if he is born and bred in Urhoboland and even if his father is born and bred in the same clan of Urhoboland as his son – is qualified to be an Urhobo leader if it can be proven that he has an Ijaw immigrant ancestor.
We must ask the following uncomfortable question: What drives people – in this case, most likely, a group of passionate conspirators – to such bizarre and ultimately foolish thoughts? It is entirely possible that ignorance is a main driver in this foolery. Perched in some comfortable office in Benin City or Lagos, the writers of these thoughtless accusations against Moses Taiga probably know little or nothing of the history of Olomu, Taiga's native clan in Urhoboland. Nor do they know much about the history of Kiagbodo, the Ijaw town that has extraordinary historical and cultural ties to Olomu. They write of Kiagbodo as if it is ensconced in some distant coastal island in the African Atlantic. They probably do not know that all – 100% – of Kiagbodo people speak Urhobo language of the same dialect as Olomu.
It is the same streak of their ignoranceof UPU history that led them to mischaracterise Chief E. K. Clark's role in Urhobo affairs as one of a passive onlooker. On the contrary, the UPU records will show that Chief Clark has been one of the most provocative leaders in the UPU. In his goodwill message to Olorogun Felix Ibru's Urhobo Unity Summit of 2009, Clark wrote: "I have been actively associated with the affairs of the UPU since 1946." That active association probably peaked in 1961-1965 when Chief Clark was in the leadership of the United Kingdom Branch of the UPU. Clark wrote in his goodwill message: "I was a very happy member [of the UPU UK Branch] between 1961 and 1965 and Midwest Union affairs was democratically dominated by us." Of course, Clark has his distractors and adversaries within the UPU leadership. However, as far as I can see, no one used the "Ijaw" card against E. K. Clark. In those golden days of the UPU, rivalries and struggles were waged on the sacred grounds of the UPU Constitution. It is sad that in their author-faked document of 1400 words, its writers could not mention the UPU Constitution – not even once.
We believe that there is an uglier and bigger driver in these men's attack on Moses Taiga. It is the Federal election season. In a previous era, not so long ago, the UPU was tormented by allegations and accusations by members of the UPU Executive to the effect that money given to them to share for the Federal elections had been seized by their leadership. We were all shamed by these spectacles. Now, under Moses Taiga, those avenues for corruption have been closed down. And some people are very, very unhappy!
We in Urhobo Historical Society stand by Olorogun Moses Taiga's agenda for the UPU. We believe our ancestors will protect him from these men of greed and chaos.
Professor Peter Ekeh is the President of Urhobo Historical Society