Toastmasters in Lagos recently shared the last month of their yearly cycle with the less privileged at the Living Fountain Orphanage, Victoria Island, where they donated sundry consumables and gift items for the welfare of residents.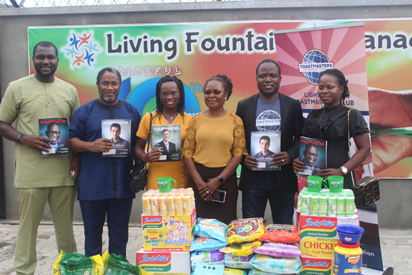 This marks the third successive year that the Lighthouse Toastmasters and sister club Lighthouse Prestige Toastmasters will be actively reaching out to orphans as part of their CSR strategy.
Last year, the non-profit organization focused on public speaking and leadership development also
visited a home for juvenile kids on the Mainland, where they selflessly provided life skill education and donated gift items to residents.
Mr. Matthew Omoaka, President, Lighthouse Toastmasters, said the gesture was driven by the spirit of giving back to people and developing their innate capacities without expecting anything in return.
He said: "Ours is a platform that gives people the opportunity to learn leadership and public speaking by doing. However, we have decided that on a yearly basis, we will give back to our society and humanity. So we decided to take this opportunity to visit the Living Fountain Orphanage and offer some gift items just to reach out to the less privileged and the orphans in this particular orphanage."
While lamenting that Nigeria lacks quality leaders because most leadership aspirants lack the requisite skills that would help them succeed and make a positive impact on the lives of the led, Omoaka added that "Toastmasters is more like a humanitarian service. It's not like the average business school, but you learn skills taught in business schools such as skill building, critical thinking, negotiation, listening, leadership and communication."
Philip Obi, incoming President, Lighthouse Prestige Toastmasters, whose vision is to make the club more wide-ranging and fun, observed that humanitarian services should ordinarily be everybody's business. "As leaders, it's important for us to impact society. We owe orphans growth opportunities; we owe them the ability to want to become better. As Toastmasters, it's important for us to ensure that at least once in a calendar year, we engage with orphans. CSR is something that everybody should be involved in because we believe that these individuals are the leaders of the future," he said.