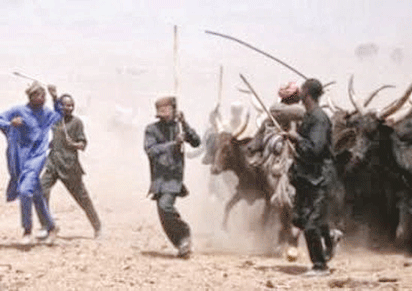 By Peter Duru
Makurdi—Two soldiers attached to the Operation Whirl Stroke, a military spike operation to stem herdsmen killings in Benue State were early yesterday shot dead by suspected militant herdsmen in an ambush along Bakin-Korta, Mbadwem Council Ward of Guma local government area of Benue State and Keana in Nasarawa State.
The attack also left the Unit Commander of the troops and another with serious injuries while their operational truck was riddled with bullets.
Confirming the development, Guma local government council Chairman, Anthony Shawon said the incident occurred at about 5am.
In his account, Mr. Sharon said: "The herdsmen came yesterday (Monday) and dug trenches around a new bridge Governor Samuel Ortom administration built at Bakin-Korta linking Keana in Nasarawa State.
"I gathered they came in their numbers and dug the trenches on both sides of the bridge so that the army would not have easy access to the area in the event of an attack on Guma.
"When the soldiers got wind of the development, they mobilized the community to fill up the trenches. The people of the community in my local government went and filled it up.
"At about 5am today (Yesterday) the soldiers also moved to Keana to find out those who carried out the act and why.
"After passing a Police check point on their way to Ruga a Fulani camp, somehow the herdsmen probably heard of their coming and laid ambush for the soldiers."
"In the ensuing shootout two of the soldiers were killed on the spot. A Captain, who is the Unit Commander was also shot but he has been moved to the hospital in Makurdi for treatment and surgery.
"As we speak all the houses in that area have all been burnt down by the armed herdsmen. They have been coming from that area to attack my people."