Stories by Moses Nosike
Femi Umar-Lawal, Chief Executive Officer/Managing Director, Imperial Gaming Limited, the brand owner of Super Lotto. In this interview with Moses Nosike, he reveals how the technology put in place has simplified lotto by introducing Super Lotto's live games and e-games. He also stated a lot of benefits Nigerians stand to gain as they play Super Lotto. Excerpts:
What is Imperial Gaming all about?
Super Lotto which is the brand name for Imperial Gaming Limited, a Nigerian gaming company established with a prime objective to make a difference in the Nigerian lottery space, is committed to becoming a preferred choice in Lottery space.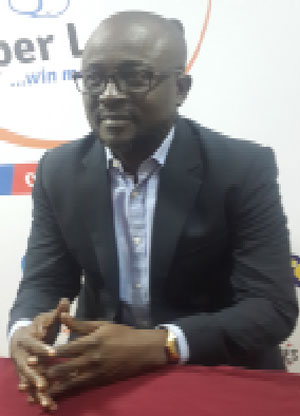 What are the benefits to an average Nigerian player?
The benefits are numerous. So, one of the ways we have decided to do things differently from the norm is to change the dynamics of the lotto industry as it were. We have quite interesting and fascinating games which are highly interactive. There is so much IT put into it, to make it very easy for Nigerians to access.
Of course, we are not just working from the live-game perspective, we have the online and the retail as well. In our stable, we have the e-games, the live-games and we still offer the traditional lotto (retail gaming). Our retail or indoor gaming includes the five-ninety (5/90) offering which benefits the average Nigerian by being pretty straightforward to play and win. From the point of youth empowerment, we are going to have direct sales agents, people who will be on our employment list – our agents which are mainly going to be dynamic youths, is another way of creating employment whereby reducing the unemployment rate.
In our case, they will be known as partners, and indeed project the Super Lotto brand and be our first level of contact point. We call them partners because we want them to work alongside us – bearing our core values which is innovation, accountability, customer satisfaction, integrity, profitability, putting all of this together is to enable us bring better things to Nigerians.
We also have our CSR initiative, which includes academic scholarship for indigent students, health insurance scheme, etc. this is because of the high cost of medical accessibility to the average Nigerian. Some of these are part of the things an average Nigerian can benefit from by being engaged with playing super lotto array of games and supporting the good causes. Equally, I mentioned earlier in terms of taking things forward by making it better for Nigerians not just the punters and our partners but also the general populace.
On the e-game…
With the e-game, this is very much electronic games that you can access from any of your devices. Also, in the course of our upward movement towards being the preferred choice brand of gaming, we would have experience centres, where you can walk into a place and experience, feel, play live and win. Its all transparent and nothing is hidden, pretty much clear cut and intact – meaning what you play is what you win and that is what you get in return.
Apart from that, we have worked our algorithms in it that, you can't be an outright loser, it promises to be a win-win affair. Even when you don't win the cash, you can also benefit from our promotional gifts items, free airtime in terms of data, lucky dips etc. We made it so interactive and beneficial for us all as everybody becomes a beneficiary some way or the other and it is going to be all-encompassing as the general public gets associated with the Super Lotto brand and games.
Reasons for the launching…
The reasons are not far-fetched. It starts with the re-orientation of individuals and perspective of what people have about Lotto. We want to change that experience for people. It is fun, entertainment, it is part of life. Having to win something from nothing, puts that person in a position of power.
Uniqueness of Super Lotto…
We are very unique and have put in a lot of efforts by coming up with innovative games, which a new game is added on regular basis for players to have unparallel gaming experience and also making use of cutting-edge technology as well amongst other selling points. Our platform is dynamic and better off than what is currently obtained. Super Lotto brand is not just a winner takes all entity, we are going to be an integral part of the movement where people (players, partners etc) benefits immensely and what we intend to offer and give out to the public is key to us.
Maximum win…
It all depends. In the e-games, you can win instant N1m, but in the Lotto game 5/90, you can win N46m straight up depending, if you get your draws right by picking the winning numbers, this also depends on the combination played both on our indoor games and Ghana games. Then, of course. there is a live game which is based on what you play for, the winnings are generous plus better odds offered.
Government regulations…
Well, government regulation is actually an important aspect of the business. We would not have gotten to this extent without regulations in place. It is not an all comers thing. Of course, we have issues where the unregistered and unlicensed operate in that space, but the government has been able to monitor and put necessary policies in place to ensure investors carry out their business. Also, the industry is big enough for continued support from the government and also provides a decent IGR for the lotteries board and ultimately the government.
The lotto Business is increasing these days, what is responsible for that?
Well, you can say a few things have led to that. Primarily, from the economic point of view, we have seen where people have won big money and used it to achieve their goals and objectives. Some have won money that they used for investments, build or to start businesses. Some have won it to live the life of comfort or luxury, they crave or yearned for. It has improved a lot of people's lives. Again, you need to look at the difference in all of them.
In the lottery & gaming space, sports betting e.g. football etc. Mostly, we all hear lottery and can't tell the difference.  And we have the lotto that is traditional,  this has to do with choosing certain numbers, even also in the western world, that's what's obtained where you choose certain numbers and win. But, at the end of the day, it has economic benefits to the people which is what we at Super Lotto stand and are positioned for. Asides, the entertainment value-add, it also provides employment for the distribution partners on the retail angle and other ancillary benefits.
Challenges…
There is no business that is challenge free in Nigeria or anywhere in the world. Though challenges are in different degrees. In the lotto and gaming business, we have regulatory challenges that could make or mar your existence.
Firstly, the huge capital nature of lotto business is a major one. Here, we don't have financial institutions readily available to invest or back your initiatives especially in Lotto business. Instead, you have to look for alternative funding sources to set up and keep the business going which can be highly expensive if indeed available.
However, equity and debt is a likely way forward in that regards. Also, the difficulty on the recruitment of key human resource is prevalent, for example working with agents can be challenging, getting properly trained agents who are capable, dedicated and loyal are hard to come by. In order to succeed in this aspect, you need to recruit, train and mentor them in order to buy into your vision and the brand objectives and deliver on their deliverables.
How do you get fund for payment of those who have won?
We have already earmarked a winning fund from the onset. Also, the generated income/funds as people play and lastly, a third party cover to enable us pay our winning obligations especially when there is huge winnings/payout.