Dear Bunmi,
I'm a 25-year-old mother of an 18-month-old son and he's the sweetest child you could ever hope for. He likes being around other people but screams and throws tantrums when he's around me. I had a very bad case of post-natal depression when I had him and I'm not completely over it yet. My husband couldn't bond with our first child, so I pretend to be enamoured by him.
The only problem is that I'm still depressed and I cry a lot. I change, feed and bathe him and I do everything a mother should, but I'm like a robot. I want to get better and enjoy my work and my marriage. I look at other mothers and they seem so capable. I feel worthless in comparison to them. Please help.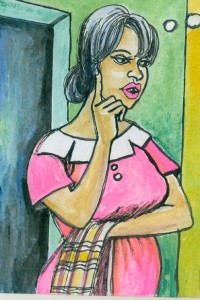 Georgina,
by e-mail.
Dear Georgina,
You need to seek professional help for your condition. Talk freely with your doctor on how you feel and ask him to put you on to some professionals who offer advice and a friendly listening ear. Also, don't hide indoors with your son. Give yourself a break once in a while by going out with friends and leaving him in the care of capable hands. Speak to close friends and your family about how you're feeling. Once they realise how tough things are for you, they would rally round and give you their support.
You're not a monster. Just a new mum grappling with post-natal depression which is a common but treatable condition.