An Igbo soio-cultural organization, Igbo Bu Igbo, has congratulated Ohanaeze Ndigbo for the successful hosting of the Southeast Restructuring Summit it organized recently in Awka the Anambra State capital. The group, however, observed that some of the recommendations of the summit might not be desirable at this point in our nation's political journey owing to feasibility challenges.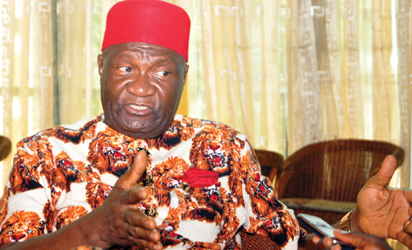 In a press release made available to the press and signed by Dr Law Mefor-Anueyiagu and Jude Ndukwe, Chancellor and Head, Media Directorate, respectively, the group noted that the bridge building processes with other zones and ethnic nationalities in the country which the Ohanaeze has continued to champion is a welcome development that is in sync with the vision of Igbo Bu Igbo and other progressive Igbo groups in dealing with the many challenges facing the southeast region.
The group which pointed at the presence of other heavyweights from other regions, who also made very meaningful contributions at the Summit, as an indication of the readiness of Nigerians to reshape the nation's destiny irrespective of our diverse cultures stating, "We advise that the entire south and other regions of the country should come together and harmonise their positions on national issues and address grey areas that might still be working against the wholesome implementation of a final draft of recommendations that might be coming out from the different ethnic nationalities in the pursuit of the restructuring agenda".
"Igbo Bu Igbo as a socio-cultural group support the recommendations of the Awka summit except some which we hope to take up with the leader of Ohanaeze Ndigbo, Chief Nnia Nwodo, with a view to seeking clarification and further suggest other ideas that would help the restructuring agenda to succeed.
"We align ourselves totally to the restructuring of the country as the current system has continued to prove to be responsible for the backwardness of our nation and the many agitations from major parts of the country. The truth is that the current configuration is no longer sustainable and needs substantial reengineering if we must continue to exist as one indivisible entity.
"We therefore request that the respective regions come together and set up a Harmonisation Committee that would further harmonise all the issues agitating every region and work out a common front for all of them with a view to pushing same to their representatives in the national assembly for appropriate actions that would lead to amendment of our constitution to accommodate factors of restructuring.
The group concluded by saying that this is the only way the different genuine agitations from parts of the country threatening to tear the country apart "can be assuaged and the sanctity of our indissolubility sustained".