Members of the State Working Committee of the Peoples Democratic Party (PDP), Ekiti State have said they are solidly behind Governor Ayodele Fayose and that at no time did the governor plan to trade away the candidacy of the PDP candidate, Prof. Kolapo Olusola.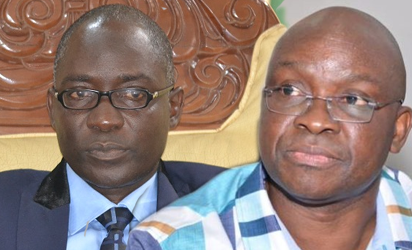 In a statement in Ado-Ekiti Monday by the State Chairman, Barrister Gboyega Oguntuase, the PDP chairman said the statement by the All Progressives Congress (APC) that Fayose planned to trade away the candidacy of Olusola was fake and a product of an amateur blackmailer.
"My attention has been drawn to the product of amateur blackmailers who said the Ekiti State Working Committee of the PDP of which I am the chairman is accusing the State Governor, Dr Peter Ayo Fayose of planning to compromise the candidacy of the Aremo Osoko, Prof Kolapo Olusola Eleka.
" I, Barr Gboyega Oguntuwase, the State Chairman of PDP in Ekiti State, did not issue or sign the said statement. All the statements credited to the State Working Committee (SWC) in the said document are false and not known to us .
"Our belief in Dr Peter Ayo Fayose ( Peter the Rock) as the leader of the party and unrepentant champion of continuity is uncompromising. The statement which contained a lot of grammatical errors can only be a product of ignoramus and illiterates wanting to cause disaffection within a family that can never be divided.
"Our 100% commitment to continuity is personally encouraged and engineered by Dr Peter Ayo Fayose; no wonder we say 'Fayose leads, we follow'. The said statement is a distraction to our intention to expose the violence nature of APC in Ekiti State which started on the day their candidate, Dr Kayode Fayemi came to start his campaign in the state with bad omens with bullets hitting one of our brothers and their member, Barr Opeyemi Bamidele and several others from their party.
"The violent activities of APC are noticeable in the destruction of our billboards in Ikere, Ikole, Oye and just yesterday in Ekiti West local government area where they stabbed people with broken bottles while other weapons were freely used. This we shall report to the appropriate agencies.
"Ekiti people know our integrity, those of us at the leadership of PDP are in a covenant relationship never to betray one another, on this resolution we stand for ever.
"If the amateur blackmailer knew our pedigrees and the level of our integrity which is unassailable and without blemish he would not have concocted such a cheap story. Behind Fayose we stand to establish continuity," he said.