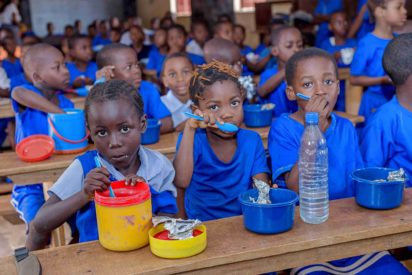 School feeding
Mrs Zainab Ahmed, Minister of State for Budget and National Planning, says the Federal Government has no fewer than 8.7 million school children in its Home Grown School Feeding Programme.
Ahmed disclosed this while fielding questions from some stakeholders, on the status of the programme at the Public Presentation of the 2018 Approved Budget of Consolidation, on Thursday in Abuja.
Home Grown School Feeding Programme is one of the components of the Social Intervention Programme of the Federal Government.
She said that the Social Investment programme had a lot of teething problems when the implementation commenced in 2016.
"A lot of processes has gone into the implementation of the programme. When we started in 2016, it was designed to reach out to five million school children.
"We have reached 8.7 million children now. We have gone above the target we set and the programme is being implemented in many states.
The Federal Government has allocated N500 billion for Social Intervention Programme in the 2018 budget.
The programme includes Home Grown School Feeding, Government Economic Empowerment, Nigeria-Power Job Creation and Conditional Cash Transfers.
The Federal Government had allocated N500 billion for the same programme in the 2016 and 2017 budgets.
Earlier, Sen. Udoma Udo Udoma, Minister of Budget and National Planning, said that the Federal Government had earmarked N11.3 billion for the Sustainable Development Goals (SDGs) in the 2018 budget.
Udoma said that government had also budgeted N36.4 billion for the implementation of other SDGs projects.
In addition, he said that government had earmarked some funds to implement Special Economic Zone Projects.
"The sum of N44.2 billion was set aside for ongoing and planned Special Economic Zone Projects across the geopolitical zones, to drive manufacturing/exports.
"Under the Export Expansion Grant , 13.28 billion was earmarked in form of tax credit to support export via the Export Expansion Grant.
"For Recapitalisation of the Bank of Industry and Bank of Agriculture, we earmarked N15 billion to support these development finance institutions for the support of Micro, Small and Medium Scale Enterprises,'' he said.
The N9.12 trillion 2018 Budget was designed to Consolidate on the achievements of the 2016 Budget of Change and the 2017 Budget of Recovery and Growth.
It was designed to advance delivery of the goals of Nigeria's Economic Recovery and Growth Plan (ERGP) 2017–2020.
The Budget was presented to the National Assembly by President Muhammadu Buhari on Nov. 7, 2017 and was passed on May 16.
It was however transmitted to the President on May 25 and assented to by the President on June 20. (NAN)