By Ebun Sessou
Suave and urbane Managing Director of Primero Transport Company, Mr. Fola Tinubu, has come a long way in life. He was in the United Kingdom for eight years where he obtained a degree in economics and politics and later bagged a master's in business administration. He came back to Nigeria in 1988 to participate in the National Youth Service Corps (NYSC), and decided to leave for the United States in 1989 to study law. On getting there, he was in paid employment before establishing Greater Washington Mortgage Company, which has since closed down. He spent 21 years in the US. Today, Fola sits atop a company that has redefined transportation in Nigeria. In this interview, he takes us through his experience and life within and outside Nigeria.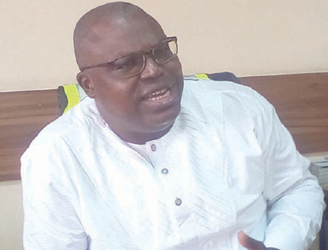 The name Tinubu shows you may be related to Asiwaju Bola Ahmed Tinubu
He is my uncle and mentor. He has been there for me for a long time. When I was in the United States, he was always there for me.
Who is Asiwaju Bola Tinubu beyond what the public knows of him?
Asiwaju Bola Ahmed Tinubu is a workaholic, he is fearless and he could go to any length to fight for his right. I have seen situations where the odds were stacked against him and many people would have walked away in such situations. He is steadfast and compassionate. He is always thinking of what he could do for the masses. He cares a lot and he has sacrificed his family life and fortune for the welfare of the masses. He is one of the most generous persons I have ever met, he is a strategist. I consult him on virtually all issues of life and he is very smart and analytical.
What lessons have you learnt from him?
Like I said, he is very smart and analytical and I have learnt to be analytical through him. I learned patience from him; I used to be one of the most impatient persons you can ever think of.
What actually prepared you for the present office you are occupying? Is it training, experience, exposure, or you got there because you are related to Asiwaju Tinubu?
You have mentioned some of the things that prepared me for the office; education, training, experience and exposure. You cannot be where I am today without quality education. Also, I have run businesses before in Nigeria and abroad. I was in the United States for 21 years. I ran a mortgage company called Greater Washington Mortgage Company for over 10 years. All of that prepared me for this. I didn't get here because I am related to Asiwaju Bola Ahmed Tinubu because this is a private company; it is not a Lagos State government agency. We raised money from investors, and they don't care about whom you are or who is your uncle or brother, all they want is the success of the organisation and the safety of their money. Also, when the banks are lending you money, they don't care about your person, but can you do it? What is your experience and we borrowed a lot of money from a bank and individuals.
What informed your leaving for the United States in the first instance?
I was supposed to go to the US to study law. I did my first two degrees in England. I wanted to spend two years in the US but I ended up spending 21 years. I ended up not going to law school also, but I thank God for how everything has turned out. God has plans for everybody. If you ask me when I was going to the US if I would go into mortgage business, I would tell you no, yet I found myself in the business. But you must be prepared to take advantage of situations.
Life in the United States for 21 years; how was it?
I left for the United States in 1989 after finishing my National Youth Service Corps (NYSC) and I worked for different organizations there and ended up setting up my own mortgage firm there. Greater Washington Mortgage was one of the fastest growing mortgage companies in Washington metro at that time. We had a staff of about 45 people and our production was about $250 million annually. We were doing very well until the mortgage crisis of 2008/2009 came up. Then there was too much speculation in the mortgage business and when the crisis came, prices dropped significantly and a lot of mortgage banks went out of business not only in the United States, but also all over the world. It led to a major economic crisis and people were afraid that the world economy was going into depression. Luckily, that was when former President Obama assumed office and he were able to put policies in place that stabilized the system.
Do you still run the business in the US?
We closed when I decided to come back to Nigeria.
Why did you decide to come back to Nigeria?
Why would I not relocate to Nigeria? I lived in England for about eight years and I lived in the US for 21 years, why not Nigeria now?
How has the business been and when did you start?
We started in November 2015. It has been very challenging because running business in Nigeria is very challenging. There are things you take for granted all over the world that are big deals in Nigeria. We have had lots of difficulty since we started, but we are trying to get better. We are working daily constantly trying to make things better, to make sure the buses get to the roads in time to pick commuters. We are working round the clock to make things better. I would tell you that when we started, we were not transporters, we were business people. But now, after being in business, we are transporters and we are facing it squarely.
What does that mean?
You can be a business person, but running transport business is a different kettle of fish. When we started, we were business people, you know I had been a mortgage person and coming into transport has been an eye opener. It is a 24-hour, seven days a week job and you are dealing with commuters. You are like a golden fish, you cannot hide. Everybody is watching you. What I know now, I wish I had known it before; you cannot have experience without practising. We thank God we are still here and we will continue to do our best in the business.
How much did you start with?
To put this together, the buses cost tens of millions of dollars and we have 434 buses.
Where are your routes?
We ply Ikorodu to Lagos Island.
Tell us some of your experience in the course of the business
The biggest challenge is the economic situation in Nigeria. When we wanted to buy the buses, we took a loan from a bank and it was in dollars. At that time, the exchange rate of naira to a dollar was around N168 to N170. It later went to about N520 before it now dropped to about N363 or N365 to a dollar. So, that threw our projection out of water because nobody envisaged that naira would go up that much. We were thinking it could go to maybe N275 or N280 to a dollar, when we were doing our projection. Also, everything we use for the buses is imported, not even tyre is manufactured in Nigeria. So, cost of operation went up overnight and our debt doubled and this affected us a lot. But we have been able to weather the storm.
What lessons have you learnt in two years?
If I were to do it again, the financing structure would be different. If your revenue comes in naira and you borrowed in dollars, if the exchange rate goes up, there would be problems. We have learnt a lot and we are still learning.
Who are your investors?
Most of them are private people that I cannot disclose. But Sterling Bank gave us the majority of the money; without them, we would not be where we are today because they are the ones that actually looked at what we had on ground and bought into it and gave us money. We went to other banks, but most of them shied away. It was only Sterling Bank that believed in us.
Maintenance culture seems to be lacking in Nigeria. What is your plan for maintenance?
I told you that when we started, we were business people. We had to show the bank how we will sustain the business before they agreed to lend us money. The buses have to be on the road constantly. So, we had to put up a maintenance culture before we started. The bank looked into this; Lagos Area Metropolitan Transport Authority (LAMATA) and Lagos State government also approved it. Our investors approved it, our buses are three years old and people think they are less than a year old. So, our cost of operation is higher; we could cut corners, but we made a decision not to do that because we want the buses to look new even when they are five years old.
In terms of profitability, what percentage can you give the company?
The business has been profitable from day one, but by the time you add the interest payable on loans, it could be difficult to quantify. Also, because of the exchange rate crisis, we had to be paying almost double of what we ought to pay the bank back. We have been struggling to pay the loan back, but our bank has been working with us to make sure we stay afloat. I cannot thank them enough. Now, it is stabilising because every increase in exchange rate affects us. But we have weathered it and we are now thinking of how we can stabilize. But the business itself has been profitable.
Do you have plans to replicate the project in other states of the federation?
We are talking to other state governments, we are talking to some people in Abuja, Oyo State and others, but we have to perfect this one first.
What has been your achievement so far?
The way other people perceive you is different from your perception. My achievement so far is that at least we are still alive. You probably would have to ask the commuters, the employees and the stakeholders. They are the ones to judge me.
You grew up in Lagos. What was growing up like?
Growing up in Nigeria was fun in the late 60s and 70s. Lagos was not as crowded as it is right now. It was okay and the education system was very good, and the economy was good. We just found oil in Nigeria then; it was a very good time to be a Nigerian. They did the Udoji salary increment then and former Head of State, Gen. Yakubu Gowon (ret.), said our problem was not money, but how to spend the money. It was a good time; looking back, I wish we spent the money well.
What were the excesses you indulged in then as a young man?
I was very young then, so I did a lot of things. I did everything a normal young man could do; we played football and all that. Young people are exuberant. There is hardly anything a young people would do that we didn't do. We lived in Surulere, Lagos then, we played football and all sort of games then.
What of your parents?
My father is Alhaji Rafiu Olubodun Tinubu, he is still alive; my mother is Chief Adedoyin Tinubu. They were very strict; they didn't tolerate any act of indiscipline.
Why did you study economics and politics?
I read economics and politics because the mathematics in main economics was too much for me such as econometrics and statistics. So, I had to drop the mathematics part of it. I was actually admitted to study economics. It was very interesting. Anything you do in life, you would apply economics and politics. Even as a journalist, you have to think about how to manage your income.
Which football club do you support?
I support Tottenham Football Club. They came third this year. They have been doing well; last year, we came second and everybody was behind us. It is easy to throw money around to buy players, but Tottenham doesn't do that, they develop their own players and they are competing at the highest level. That is a lesson. Manchester United, Chelsea, Real Madrid buy players. I have been a supporter of Tottenham since 1982, when I was a student in England. Most Nigerians got into Premier League few years ago. My cousin, Deji Tinubu, who died recently, because we were in England at the same time, supported Nottingham Forest till he died. They went to the third division before they came back to championship. Some of the clubs you are talking about now were nowhere to be found in those days.