..Says Morocco 'll train 150 Nigerians in Islamic leadership
…Also to build Ammonia Production Plant in Niger Delta
By Johnbosco Agbakwuru
The Presidency Saturday said that President Muhammadu Buhari's recent visit to the Kingdom of Morocco has far reaching positive results, as it will foster regional integration and development.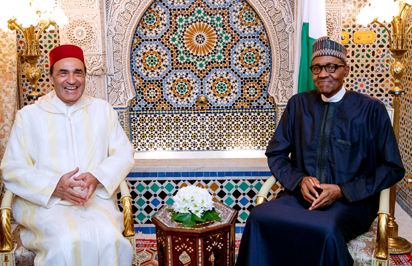 The Presidency in what was titled, "President Buhari's visit to Morocco: Six Quick Takeaways" by the Senior Special Assistant to the President on Media and Publicity, Malam Garba Shehu, also explained that the two countries entered into agreement where 150 Nigerians will be trained in moderate, modernized and non-extremist methods of Islamic leadership.
He said that the Memorandum of Understanding, MoU, signed by the two countries will create jobs for Nigerians.
According to him, the jobs will come from the establishment of a Basic Chemicals Platform, specifically to develop a significant Ammonia Production Plant by the Kingdom of Morocco in the Niger Delta.
He stated that the Federal Government's programme of Disarmament, Demobilisation and Reintegration (DDR) of former agitators in the Niger Delta region was part of the Amnesty Programme that brought calmness to the country at its commencement.
However, he said the programme was floundered and wobbled due to irregularities until the administration of President Buhari put it back on track, noting that "there is peace once again."
He asked a question that if the disarmament and rehabilitation of 30,000 ex-agitators could do so much for nation, how far would 18,000 skilled and unskilled new jobs go towards cementing that peace?
Shehu said, "While analysts take their time to assimilate and give us the answer as to how much good the new jobs will bring, President Buhari who visited the Kingdom of Morocco from June 10 to June 11, 2018 signed onto memoranda of understanding and agreements leading to the new jobs and many others.
"This, of course, reaffirms the Buhari administration's commitment to make a very big difference by linking foreign policy directly to Nigeria's economic interests.
"The jobs in view are calculated to come from the commitment to the Regional Gas Pipeline, which will connect Nigeria's gas resources, those of some West African countries and Morocco, thereby fostering integration and development of countries in the West African region.
"These jobs will also come from the establishment of a Basic Chemicals Platform, specifically to develop a significant Ammonia Production Plant by the Kingdom of Morocco in the Niger Delta.
"Yet another important takeaway is the decision by the two countries to strengthen cooperation in the efforts to combat radicalization and violent extremism in Africa and beyond.
"To achieve this, the two leaders underscored their commitment to moderation, tolerance and peaceful coexistence, as taught by Islam. They expressed deep concerns about violent extremism, terrorism and the persistence of security threats in Africa.
"As part of the technical agreement reached in this regard, Morocco will open their training facilities for the training of about 150 Nigerians in moderate, modernized and non-extremist methods of Islamic leadership.
"On the basis of their exemplary cooperation, the two Heads of State agreed to develop partnership in the field of agriculture particularly through the signing of Cooperation Agreement on vocational training and technical supervision. This will involve about 80 Nigerians in varied fields of agriculture and the setting up of 20 farmers' schools."
While breaking down to specifics,, he said the agreement promised that Morocco will support university education with scholarships of eight agricultural engineers per year.
"The areas of specific training are: Two students in rural engineering, two students in the animal production, two students in horticulture andt veterinary doctors.
"Morocco will equally support agricultural training leading to a diploma for five specialized technicians per year ( baccalaureate plus two years) and five technicians per year (baccalaureate plus two years) in the fields of irrigation agriculture, breeding, management of agricultural companies and marketing of agricultural inputs with scholarships.
"The Kingdom of Morocco will also provide support for continuing education: 20 engineers as part of a short-term training (one-week study trips), five veterinary doctors (one-week study trips), 20 technicians (one-week study trips), 15 engineers on irrigation techniques, water management and hydro-agricultural infra(one 15-day session), and 30 engineers on modern breeding techniques (two sessions of 10 days)."
The country will also provide 10 Veterinary doctors on animal health ( two sessions of 10 days) and 15 engineers on horticultural production techniques (one session…).
Continuing, he said, "In the same breath, the Kingdom of Morocco will support and provide technical assistance in setting up 20 farmer-field schools (FFS) for the training of Nigerian farmers.
"The agreement concerning this sector is for a period of three years and may be renewed for a further period.
"For Morocco, which has lately been making strong efforts to improve relations with neighbouring states and the rest of the continent since their return to the African Union, it is important that our two states have agreed to consult and coordinate on regional and international issues of mutual interest and concern, and to coordinate the positions of the two countries in regional and international organizations, including the African Union.
"His Majesty King Mohammed VI congratulated President Buhari for his leadership in the regional initiative against terrorism in the Lake Chad region and commended his efforts in the fight against corruption and his role as the African Union anti-corruption champion.
"Morocco has many economic strengths, including the world's largest phosphate reserves and a diverse agricultural sector. On the basis of an agreement between Moroccan state firm, OCP, and the Fertiliser Producers and Suppliers Association of Nigeria, FEPSAN, Nigeria has been receiving the needed phosphate for the local blending of fertilizer. So far, 14 of the county's moribund fertilizer plants have resumed production.
"Activities have been generated in the value chain in terms of transportation, labour engagements at the plants including loading and offloading with more than 250,000 jobs created directly and indirectly.
"The Presidential Fertilizer Initiative plans to make available one million metric tons of fertilizers, amounting to 20 million bags to farmers this year."