By Murphy Ganagana
ABUJA—Kingsley Muturu is the Delta State chairman of second phase leaders of ex-agitators in the Presidential Amnesty Programme. A few months ago, he was disillusioned with the turn of events at the Amnesty Office; he was agitated that a thick cloud of uncertainty had enveloped the Amnesty Programme, and the hope of residents of communities in the oil rich Niger Delta for remarkable human capital development in the near future was dimming fast.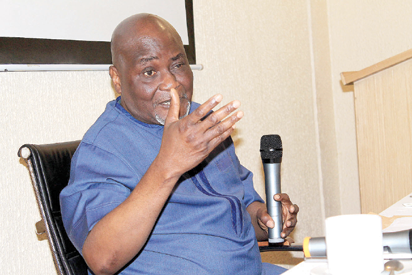 It was a worrisome situation for him even a few weeks after the appointment of Prof. Charles Dokubo as Special Adviser to the President on Niger Delta and Coordinator, Presidential Amnesty Programme, and he waited with bathed breathe to fathom the path the erudite professor and nuclear scientist would chart.
Three months on, Muturu says there is now light at the end of the tunnel and a victory dance with his foot soldiers and members of his community would not be a misplaced optimism. After attending a meeting of second and third phase leaders of ex-agitators in the Amnesty Programme hosted by Dokubo on June 8, Muturu departed the venue with a conviction that the new Amnesty boss is God-sent. The meeting which held at the Abuja Sheraton Hotels and Towers had over 70 leaders of Niger Delta ex-agitators in attendance. Dokubo had a day earlier met with about 30 Phase One leaders of ex-agitators at the same venue.
Like Muturu, leaders of ex-agitators across the Niger Delta region rose from the meeting in celebration of a new dawn after the interactive session with Dokubo during which he gave them an insight into his vision and mission. The parley opened a window that enabled them peep into his new direction on education, vocational, post training engagement and job placement initiatives, as well as sustainability plans.
"I am very impressed; this is my second time of meeting with him. I enjoy all his efforts, and I am appealing that he corrects the errors of the previous managements of the Amnesty Programme. I pray that the grace of God will fall upon him; let him manage the programme so that at the end of the day, God will take the glory. He is God-sent. When you see good thing, you tell your people", says Julius Joseph, chairman, forum of Phase Three leaders of Niger Delta ex-agitators.
Reasons for his renewed faith in the Amnesty Programme with Dokubo on the driver's seat are legion. And it is the beginning of a success story. Besides the 1,807 delegates deployed to 145 institutions across the globe for various educational programmes by the offshore education unit of the Amnesty Office, 207 students spread across 66 institutions in 20 countries are currently studying various courses.
Joseph's hope of a better deal for beneficiaries of the Amnesty Programme is further heightened by Dokubo's determination to surpass a record 30 offshore graduates of the programme who attained First Class Honours/Distinction degrees in courses including Engineering, Bio-medical science, Law, Information Technology, Political Science and International Relations. Effective monitoring of offshore students by Relationship Managers under his watch has also reduced agitation of students since he assumed office.
Dokubo's vision and drive
Critical stakeholders in the Niger Delta are also excited with Dokubo's vision and drive for Amnesty beneficiaries undergoing educational programmes to excel. Amaebi Zuofa, a community leader in Delta State describes as cheery news, reports that 339 students in various universities in the country are expected to graduate in the 2017/2018 academic session, an improvement on the 300 recorded last year. He says Dokubo deserves to be commended for ensuring that the onshore education unit of the Amnesty Office attends promptly to the welfare of students pursuing degree programmes in Nigerian institutions.
Among those expected to graduate this year are 67 beneficiaries of the Amnesty Programme at Afe Babalola University, Ado Ekiti; Benson Idahosa University (70), and Igbinedion University, Okada -107. Others are Law School (33), Redeemers University (25), University of Port Harcourt (4); University of Benin (4), Rivers State University of Technology (3) and Ambrose Alli University, Ekpoma, (3).
On assumption of duty, Prof. Dokubo had tasked the onshore education unit to develop a sustainable plan for the next two years. This included the preparation of students' allowances on a quarterly basis to ensure deadlines were strictly met and to avoid unforeseen circumstances that could warrant late disbursement of funds by the Federal Government. A verification exercise to ascertain the actual number of students who are beneficiaries of the Amnesty Programme at various universities across the country is ongoing to ensure government funds are not misappropriated.
Asu Tambou, chairman of the Phase Two forum of leaders of ex-agitators holds belief of an enduring peace in the Niger Delta region, with a resolve to support Dokubo as he strives to take the Amnesty Programme to greater height. His resolve is fired by fresh initiatives at the Amnesty Office as Dokubo sets out to put finishing touches for five vocational training centres across the Niger Delta to come on stream. These include the Maritime Vocational Training Centre at Oboama, Rivers State; Basic Skills Vocational Training Centre in Boro Town, Kaiama, Bayelsa State, Power and Energy Vocational Training Centre in Bomadi, Delta State; Oil and Gas Vocational Training Centre, Agadagba-Obon, Ondo State, and the Agricultural Vocational Training Centre in Gelegele, Edo State. The vocational centres at Agadagba and kaiama are expected to be operational by next month, to empower ex-agitators with viable skills to become economically independent and relevant to themselves, families, communities and the nation.
Tambou is not alone in his dream of better days ahead for beneficiaries of the Amnesty Programme and Niger Delta communities. Isreal Akpodoro, a second phase leader of Niger Delta ex-agitators, shares his optimism. He describes Dokubo as a messiah.  "I am very happy, and this is what we have been telling the previous management at the Amnesty Office which is the General Boroh regime; that there is a need to consult with the stakeholders, but he refused. Today, we are all happy that the messiah of the region has come; we are very happy. In fact, with what Prof. Charles Dokubo is doing now, after the 2019 elections, he will move to a higher level because what he is doing now will mess up some failed leaders who had not helped matters; he will move to a higher level".
With 200 delegates of the Amnesty Programme currently undergoing training in automobile at Innoson Kiara Academy, Nnewi, Anambra State, and about 559 training in agriculture at other facilities, residents of the Niger Delta say Akpodoro was right in his perception of Dokubo. This is more so, as evidenced by the action plan of the Post Training Engagement and Job Placement units of the Amnesty Office for the next two years.
While 3,150 graduates of vocational training programmes were scheduled for business set-up and empowerment in 2017, 2,500 delegates among them were rolled over to this year due to fund-related challenges. However, 5,700 delegates including the expected roll-over from the previous year have been proposed for empowerment/business set-up this year, depending on availability of funds.
Job placement
Sendi Edouyebo, a Bayelsa State-based businesswoman is elated at Dokubo's drive to facilitate job placement for beneficiaries of the Amnesty Programme through a Job Placement and International Development Partners Engagement Unit (JPIDPEU), which he created on assumption of office. So far, the unit has profiled 28 delegates for underwater welding jobs; 100 delegates for civil service jobs and 10 delegates for aviation crop spray pilot jobs. It has also concluded profiling of 25 delegates for catering services, hotel and fast food jobs and 75 delegates for other job opportunities.
Pastor Reuben, chairman, Phase One forum of leaders of Niger Delta ex-agitators says Dokubo had already made a difference from previous managers of the Amnesty Programme after the Abuja meeting.  "It's good that we open up and say the truth. When we started, the SA (Dokubo) stood up from where he was seated, moved close to us and said he is one of us and wants to be in our midst. That alone indicates that the man has our mind and he is from the Niger Delta; from the way he spoke and responded to what we said, I'm convinced things will be different in the Amnesty Programme now". For Henry, aka Egbema One, "Dokubo is wonderful". To be sure, it is celebration time for ex-agitators and residents of communities in the Niger Delta as the new Amnesty boss fires from all cylinders. He has promised to keep hope alive.