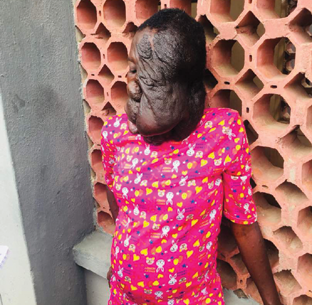 By Esther Onyegbula Okpala
A 28-year-old lady, simply identified as Tina, suffering from abnormal growth on the face, has alleged that an unregistered non-government organisation (NGO) made money by using her to beg for alms on the streets of Lagos for three years.
Tina made the allegation after she was rescued by the police and suspected members of the unregistered NGO arrested.
The victim, who claimed to hail from Delta State, revealed that a relative brought her to Lagos and introduced her to the said NGO with the understanding that it would help raise money to tackle her health challenge.
"I have been on the streets of Lagos begging for three years, still hoping that the NGO would fulfil its pledge. They promised to take me to hospital to perform an operation but they have not done so for the past three years."
According to her, she was pregnant for her lover, Frank, in Delta, who promised to marry her after the operation.   "Frank is a graduate of Delta State University, Abraka but unemployed.   I was rescued after the police apprehended my relation believed to be a child trafficker. Please help me out of my current situation, "she told Sunday Vanguard.
The police at Ilemba Hausa Division, Lagos had received information about the activities of the unregistered NGO claiming to help people with debilitating illnesses to raise funds for treatment.
Based on the information, police detectives swung into action. They reportedly found Tina inside the NGO premises.
It was alleged that the NGO had been using her to beg for alms in Lagos under the pretence that they will assist her to raise money to tackle her health challenge through the procurement of facial surgery.   However, police sources said they ended up putting her on the streets of Lagos to beg for money for the past three years without fulfilling their promise. Instead, according to sources, all the money realized from the alms begging was allegedly given to the group leaders whose addresses were unknown but said to be lodging in hotels in the area.
However, a search for the group's leaders paid off as four of them, allegedly identified as Paul Samuel, Chukwuma Igbokwe (24), Ofiga Ayuba (18) and Bright Edet (32), were arrested. They were said to have identified by the victim as members of the NGO.
Suspect's account
Denying the allegation, Samuel said he was the one running the NGO. "It is a humanitarian organization. We source for funds from government and public spirited Nigerians. We are not registered under any agency. We are not operating a fake NGO; it is humanitarian service that we render. We go out soliciting for funds which we use for treatment or carry out surgery on patients. I have been doing this for the past eight years. These (Chukwuma Igbokwe, Ofiga Ayuba and Bright Edet) are people working with me", the suspect said.
"I have been buying drugs for this patient called Tina but her condition seems to be getting worse. I have receipts of the drugs I bought for her. We have other patients in hospital. Some of them will be discharged today. There is no way I can have several patients in hospital at the same time because of the huge cost implication. We do it sequentially and once we are done with a patient, we admit new ones and discharge the old".
Commenting on the matter, Lagos State police boss, Imohimi Edgal, said the suspects would be charged to court after investigation.