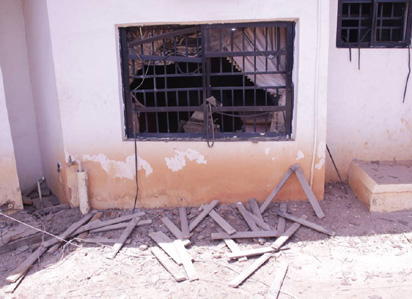 By Dennis Agbo
ENUGU—ENUGU State Police Command has arrested two members of the Indigenous People of Biafra, IPOB, for allegedly bombing home of the  President-General of apex Igbo cultural group, Ohanaeze Ndigbo, Chief Nnia Nwodo.
The police claimed that the two suspects, Mr. Ekene Okechukwu from Anambra State and Gabriel Alagba from Ebonyi State, were the ones that detonated an Improvised Explosive Device, IED, on April 29, 2018 at the house of Chief Nwodo in Ukehe, Enugu State.
The two suspects, however, denied being responsible for the IED explosion.
The police also paraded a Deputy Superintendent of Nigeria Prisons Service, NPS, Collins Ugwu and two members of his syndicate that specialise in trailing persons from banks after making withdrawals and robbing them.
The command equally made arrest of a rape and murder suspect, Michael Anthony from Mpu, Enugu State, who murdered 18 year-old SS-2 female student, Miss Ifunanya Ugwu after raping her at Akwuke in Enugu South Local Government Area on may 13, 2018.
Police said that the two suspects involved in  Nwodo's saga were members of the Indigenous People of Biafra, IPOB.
Whereas Okechukwu denied being a member of IPOB, Alagba accepted membership of the pro-Biafra group and also admitted that he sent a threat message to Nwodo from Lagos, where he was residing.
Alagba stated that it was after he listened to Radio Biafra and got Nwodo's number that he sent him a message to beware of anti-Biafra actions.
He said, "I sent threat message to Nnia Nwodo, though I am very sorry because I don't know the person in particular. Nobody asked me to send the message, but I heard his phone number on Radio Biafra when they were discussing what the person did. I was very annoyed, so I sent that very message that he should leave Biafra alone or I will deal with him."
Also paraded were two suspected vandals of Radio Nigeria Enugu Transformer armoured cables at the transmission station located at Miliken hill, Enugu-Ngwo. Their names were given as Ogechukwu Nwankwo and Chukwumeke Umoke.
Mohammed said all the suspects would soon be charged to court after concluding investigations.