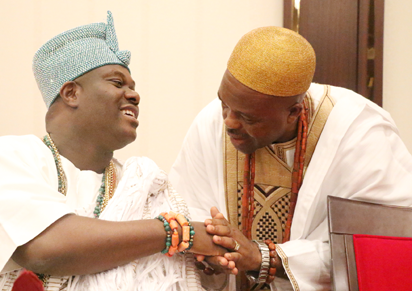 Ooni
By Chris Onuoha
Ooni Adeyeye Enitan Ogunwusi, the Ooni of Ife, will on July 14, unveil to the public, a historic book titled,  'Queen Moremi Ajasoro', written in honour of the Yoruba legend and queen of liberation.
The event, holding at the Oduduwa Hall, Obafemi Awolowo University, Ile-Ife, will attract first class monarchs in Yoruba, top personalities in Nigeria and cultural enthusiasts from the diaspora.
The Ooni is dedicating the  book to Mrs. Olufunso Amosun, wife of the governor of Ogun State. According to him, Mrs. Amosun's inherent attributes of empathy, selflessness, humility and commitment to the cause of Moremi's legacy awarded her the dedication of this literature book by his imperial majesty.
The forward of the book is written by Chief Olusegun Obasanjo while the father of the day is Chief Alex Duduyemi, Aro  Asiwaju of Ile-Ife. It is published by Princess Ronke Ademiluyi and House of Oduduwa Foundation in collaboration with the institute of Cultural Studies, Obafemi Awolowo University, Ile-Ife.