By Oghenefego Obaebor
Veteran broadcaster, Mrs. Bimbo Oloyede has lamented the falling standard of English Language proficiency among Nigerians, especially the poor pronunciation of English words among public speakers including journalists, customer service providers, teachers, and even politicians.
Oloyede, who linked the development to poor training, illiteracy, influences of dialects, among others, suggested that certain experts in the field of English Language should take up the responsibility of guiding the people to speak correctly. She said such experts need to assume the role of custodians of good spoken words.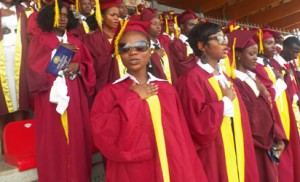 Towards addressing the challenge, the public speaking trainer has, therefore, published a book entitled: Strictly Speaking (Pronunciation Made Easy), which she said is targeted at professionals within the education, information, political, corporate and entertainment sectors. She added that another one targeted at students will also be available during the public presentation scheduled to hold on Monday, June 25, in Lagos.
She said; "As a practitioner in the broadcast sector, I have been concerned about the falling standards of presentation and pronunciation permeating our air waves as well as the poor performance of public officials within our public space.
"The book is, therefore, based on the belief that articulation and effective communication, is an efficient tool that strengthens personal and corporate development, promotes educational advancement, and enhances dynamic information dissemination and good governance."
According to the author, former Nigeria's High Commissioner to the United Kingdom, Dr. Christopher Kolade will chair the book launch while the Chairman of Channels Media Group, Dr. John Momoh will serve as one of the book reviewers.
Oloyede, however, noted that as non-native speakers of English Language, Nigerians across major sectors, and particularly programmes presenters on radio and television, event comperes, customer officers, especially at our airports, teachers, motivational speakers and preachers require mastery of the language spoken globally to avoid bad influences on their audience, and especially the young ones.