Lagos – The Chartered Institute of Public Resources Management and Politics based in Ghana on Monday gave Mr Tony Okoroji, Chairman, Copyright Society of Nigeria (COSON) the distinguished Fellowship and Corporate Leadership Excellence Recognition Award.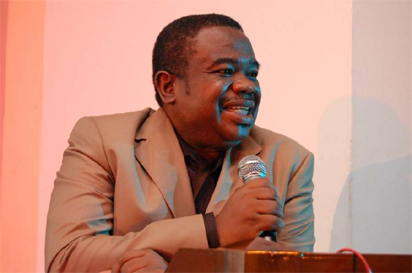 Mr Richard Ikpadakpodu, the Executive Director of the institute presented the award to Okoroji.
The director speaking during the presentation said that the institute held Okoroji in high esteem because of his leadership ethics and outstanding accomplishments in the field of intellectual property.
"Okoroji is a role model and deserves to be celebrated not only for this generation but by future generations as well.
"He is one of Nigeria's transformational leaders and a first class corporate technocrat of international repute.
"He has an enviable track record and has made considerable contributions to national development and for the peace, progress and unity of one Nigeria," he said.
Ikpadakpodu said that the institute carried out a five-year intensive research on Okoroji's personality profile and was impressed with his vast managerial acumen and shrewd administrative capabilities.
"This award is, therefore, the result of your stern initiative of intellectual property which, you yourself and the entire board of COSON, have jointly revolutionised to meet up with global standards," he said.
The director recalled that the Performing Musicians Association of Nigeria (PMAN) was proficiently restructured as a result of Okoroji's administrative prowess while he was the president.
"Your leadership foresight transformed PMAN from a relatively unknown association to one of most powerful and recognised bodies in the history of Nigeria till date.
"The institute appreciates your laudable initiative which has attracted massive international attention to Nigerian musicians.
"The institute also commends your visionary leadership as an outstanding veteran in the global field of entertainment.
"The Nigeria Music Awards which is your project is greatly acknowledged and has placed Nigeria on a global map of reckoning," he said.
Ikpadakpodu said that Okoroji's name and office had never been found wanting in any financial malpractices, abuse of office or indictment of any kind.
"We are very proud of your incorruptible track records of accomplishment and strength of professionalism.
"We surely believe that you are gradually leaving positive marks on the sand of time that will outlive you," he said.
The director said that the institute was an international body structured within the context of raising world class business policy makers with an imbibed culture of accountability and transparency.
"These qualities are pivotal in the advancement of major sectors of the Nigerian economy.
"The director said that the institute was a platform to inculcate resounding managment expertise into corporations.
Such corporations could metermophose into global conglomerates and achieving national productivity and profitability, he said.
"The institute was also established to honour men and women of industry, integrity, good governance who had contributed to the socio-economic and political stability and development of their countries.
"We believe that as a fellow of this institute, you will impact positively your wealth of uncommon administrative successes and contribute to policies that will move the African economy forward," he said.
Ikpadakpodu urged Okoroji to see the recognition as a motivation to rededicate himself to the good services to his nation and humanity which he had been known for.
Mr Okoroji in his response thanked the institute for the recognition.
Okoroji said that he had visited Ghana, Liberia and South Africa on several occasions in the past to resolve issues based on copyright crises.
"I have never met with any of these men from the institue and infact was resisting their efforts to get to me thinking they were trying to contact me for money.
"However, having investigated the track record of the institute, I discovered that it is a very honourable international institute.
"I thank you so much for the recognition that you have given to me because there is no differnce among us as Africans.
"And we must work together to achieve our common goal.
"I drive on a full tank of faith, therefore, I do not believe in failure but believe that I can achieve anything that is possible, " he said.
Okoroji said that he would continue to work assiduously to contribute to the development of the African economy. (NAN)