Abuja – The new excise duty for alcoholic beverages and tobacco earlier approved by President Muhammadu Buhari will take effect from Monday, June 4, 2018, says the Federal Government.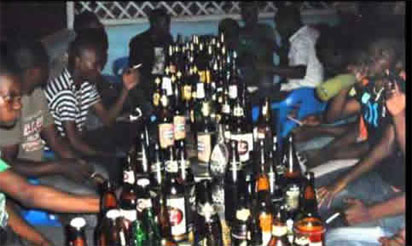 The Minister of Finance, Mrs Kemi Adeosun, in March announced that the president had granted a grace period of 90 days to manufacturers of the products.
Adeosun said the new excise duty rates would spread over a three-year period from 2018 to 2020 in order to moderate the impact on prices of the products.
According to her, the upward review of the excise duty rates for alcoholic beverages and tobacco was to raise the government's fiscal revenues.
She said that it would also reduce the health hazards associated with tobacco-related diseases and alcohol abuse.
Adeosun said the new duty rate on tobacco was a combination of the existing ad-valorem base rate and specific rate while the ad-valorem rate was replaced with a specific rate for alcoholic beverages.
She said that under the new rates for tobacco, in addition to the 20 per cent ad-valorem rate, each stick of cigarette will attract one naira specific rate per stick; that is N20 per pack of 20 sticks in 2018.
She said that in 2019, tobacco will attract two naira specific rate per stick or N40 per pack of 20 sticks.
The minister said that by 2020, tobacco would begin to attract N2.90 kobo specific rate per stick or N58 per pack of 20 sticks.
Adeosun explained that Nigeria's cumulative specific excise duty rate for tobacco was 23.2 per cent of the price of the most sold brand.
This is as against 38.14 per cent in Algeria, 36.52 per cent in South Africa and 30 per cent in Gambia.
She said also that the new specific excise duty rate for alcoholic beverages cut across beer and stout, wines and spirits for the three years, 2018 to 2020.
Under the new regime, beer and stout will attract 0.30k per centilitre (Cl) in 2018 and 0.35k per Cl each in 2019 and 2020.
Wines will attract N1.25k per Cl in 2018 and N1.50k per Cl each in 2019 and 2020, while N1.50k per Cl was approved for spirits in 2018, N1.75k per Cl in 2019 and N2 per Cl in 2020.
The Director-General, Consumer Protection Council (CPC), Mr Babatunde Irukera, said the decision to increase the excise duty on these commodities was consistent with prevailing global practices.
He said he was convinced government's approach would foster consumer confidence, provide regulatory clarity and prioritise safety, to reinforce the mandate of the council.
Also, Akinbode Oluwafemi, the Deputy Executive Director, Environmental Rights Action of Earth Nigeria, described the decision to increase excise duty on tobacco as praise-worthy.
"We applaud the federal government for making tobacco products priced beyond the reach of our kids and the poor who are unfortunately targeted by the tobacco industry through their cheap but lethal products.
"Considering the looming tobacco menace in Nigeria, it is necessary to take stringent measures to halt the deliberate marketing of tobacco products to kids," Oluwafemi said.
However, the President, Manufacturers Association of Nigeria, Dr Frank Jacobs, expressed fear that the proposed hike may lead to close of factories and loss of jobs in the country.
ECOWAS Council of Ministers had at its 62nd and 79th Ordinary Sessions in Abuja in May 2009 and December 2017, issued directives on the harmonisation of the ECOWAS Member States' Legislations on Excise Duties.
Similarly, the International Monetary Fund (IMF) in its 2017 mission report advised Nigeria to raise the excise duty on a stick cigarette to N5, which is five times the approved amount.
"The low tax level prevails even though Nigeria is the highest alcohol drinking country in Africa and leads the top 10 largest beer drinking countries," the Fund said.
The new rates also fall short of the more aggressive recommendations of the World Health Organisation (WHO) in Article 6 of the Framework Convention on Tobacco Control (FCTC), which suggests 70 per cent excise on tobacco products. (NAN)