By Kingsley Omonobi, Abuja
Two  self confessed members of  a  cult group, Aiye Confraternity, have narrated how they murdered one Oriade Adebisi, 22, and his girlfriend, Juliana Eke Imaga, both students of Olabisi Onabanjo University, Ago Iwoye.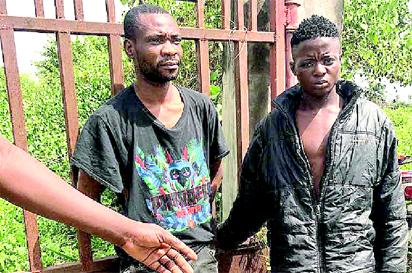 Murtala Babatunde, 29, and Taiwo Razaq, 18, arrested in connection with the murders, said they kidnapped the victims around Oru-Ijebu Junction on Lagos – Benin Expressway on Thursday, May 28.
A police report said the arrest of the suspects followed the information received, on June 3, from one Oriade Adeola Rafiu (a relation of one of the victims,  Oriade Adebisi).
Rafiu was quoted in the police report as saying that, on the fateful day,around 11 pm, Adebisi was driving in his Honda Crostour Car together with his girlfriend, Julian, at Oru-Ijebu after paying his friend 'Akogun' a visit.
"All of a sudden as he was driving towards Oru junction, three armed men emerged on a motorcycle and whisked away the said Oriade Adebisi and his friend together with the car to unknown destination", the report said.
"On the receipt of this complaint, operatives of the IGP-Intelligence Response Team (IRT), led by DCP Abba Kyari, in collaboration with Oyo State Federal SARS and Ogun State Police Command, swooped on the hoodlums and two of the principal suspects (Muritala Babatunde and Taiwo Rasak) were  arrested.
"An iPhone X with etisalat sim and two pairs of canvas shoes belonging to the deceased Oriade Adebisi were recovered from the first suspect (Muritala Babatunde)".
The police report quoted one of the suspects, Babatunde, as saying he is  dropped out  of the university in Ago Iwoye where he was initiated into cultism called Black Axe Confraternity, popularly known as 'AIYE'.
Describing the suspect as 'Number One Aiye, Ijebu North Axis', he was said to have had in his possession two locally made pistols which he and his gang members had allegedly been using to perpetrate their nefarious acts.
"He added that, on  May 28, 2018, at about 2300hrs, having noticed the said Oriade Adebisi's movement along Oru-Ijebu Junction, whom he had been nursing criminal intents against, he quickly called his gang members (Rasak Taiwo aka IKU and Sodiq) and the said Oriade Adebisi and his girlfriend were kidnapped in Adebisi car and taken to the bush along Ijebu-Ode Awa/Ibadan expressway where both of them were killed", the report said.
"He confessed further that before Oriade Adebisi was killed, he ordered him to deactivate his password on his iPhone and he took the iPhone and two pairs of shoes from him and thereafter abandoned the car at the expressway, having dumped the bodies of Adebisi and his girlfriend in a bush at the back of an uncompleted building where they were murdered.
"He confessed that the late victim, whom he said was a Yahoo Boy, was giving money to a rival cult group and was not giving him money and had not recognized him as the overall cult leader in that area".
Rasaq, on his part, was said to have confessed that he was initiated into AIYE Confraternity in  2015.
According to he police report, he went to stay with Babatunde (first suspect) at Oru-Ijebu.
"He added that on May 28,  in the late hours of the night, Babatunde called him and one Sodiq (suspected cult member) to meet with him at Oru junction.
"On their arrival, Babatunde Muritala told them that he wanted to kill Oriade Adebisi who had parted away with his money.
"He confessed that Muritala then called his girlfriend Seun Yetunde who had been monitoring the said Oriade's movement and she brought a bag that contained two guns and a cutlass.
"That Muritala then gave him one of the guns; handled one and handed over the cutlass to Sodiq while waiting patiently for Oriade to come.
" A few minutes later, Oriade and his girlfriend arrived in a car. Suddenly, we based him down with the gun.
"Muritala took over the steering having ordered the said Oriade and the girl to the backseat while himself and Sodiq were at the back seat with them and they drove off the junction.
"He added that they took them to the bush along the expressway where they were killed with planks and gun".
The police report said the decomposing corpses of the  deceased were recovered on June 19, 2018 and deposited at the General Hospital's morgue Ijebu Ode for autopsy.
The car was also recovered and parked at Awa Division, Ogun State and the suspects guns were equally recovered.