•Experts lament gaps in refuse disposal, sanitation
By Chioma Obinna & Gabriel Olawale
The  outbreak of cholera in Nigeria in the last one year is currently raising questions about the image of Nigeria at 58. Cholera, a poverty-induced disease, has continued to ravage communities across the country. The disease which is preventable and treatable, has remained a major problem in Nigeria for years even as the World Health Organisation, WHO, says Nigeria has the highest burden of cholera in Africa.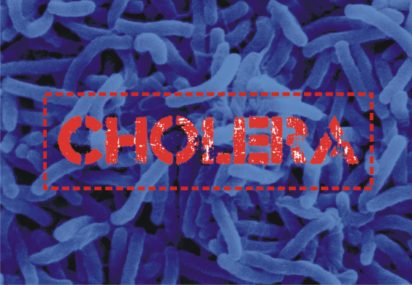 Cholera is an acute, diarrhoeal illness caused by infection of the intestines with by the bacterium, Vibrio cholerae. Nigeria has had a number of outbreaks in the past. According to a study, Cholera Epidemiology in Nigeria: an overview, carried out by Ajoke Olutola Adagbada and colleagues, cholera made its first appearance in 1972. Unfortunately, the latter part of 2010 was marked with severe outbreak which started from the northern part of Nigeria, spreading to other parts and involving approximately 3,000 cases and 781 deaths.
The outbreak was attributed to rain which washed sewage into open wells and ponds, where people obtain water for drinking and household needs.  In Nigeria, cholera is endemic and outbreaks are not unusual and the rains are here and the country is at it again.
One easily recalls the 1996 cholera outbreak in Ibadan that was attributed to contaminated water sources. Street vended water and non-washing of hands with soap before eating, were possible reasons for the 1995-1996 cholera outbreak in Kano State. The 2010 outbreak of cholera was speculated to be directly related with breaches in sanitation and water supply.
According to the Weekly Epidemiological Report released by the Nigeria Centre for Disease Control, NCDC, the latest cholera outbreak peaked by Week 20 of 2018 with 4,827 cases recorded comprising  4,827 cases, 154 laboratory confirmations and 76 deaths in 56 local government areas of 18 states. During  Week 20 of 2017,  83 cases were recorded with four deaths  in 11 affected states. So more cases are being recorded.
Following a fresh cholera outbreak in Jos North Local Government Area of Plateau State,  the Plateau State Commissioner for Health, Dr. Kuden Kamshak Deyin noted that in the past two years, the state did not record any cholera outbreak, but from May 23, 2018,  had recorded 126 cases and five deaths in six wards of Jos North Local Government Area.
In Kaduna State, 40 students at Government Girls Secondary School, Kawo, were reportedly hospitalised at the General Hospital, Kawo, while 89 students are under watch, although, a Deputy Director, Disease Control Centre, Ibrahim Suleiman could only confirm 39 at the time of filing this report.
In Adamawa State, the death toll rose to 18 in Mubi.  It was also reported that 1,076 cases had been diagnosed through house-to-house search and chlorination organised by the WHO to mitigate the spread of cholera to other towns and villages across the state.The new outbreaks in the Northern part of the country elicit concern. The stage is set for more outbreaks hence there is a nationwide cholera alert. The cholera outbreak is spreading and health watchers fear a cholera outbreak may be imminent in congested cities like Lagos.
Lagos State has witnessed series of cholera outbreaks in the past, but the persistence of dirty environment with heaps of refuse  on the streets and the roads, the blocked drains, poor sanitation facilities, lack of potable water and generally poor hygiene habits of many residents, are strong pointers to another looming cholera outbreak.
Coupled with restricted access to potable water and reliable toilet facilities, millions of Lagosians are at risk of cholera attack. Ignorance about proper personal and environmental hygiene practices as well as lack of prompt diagnosis only contribute to the problem.
So why are people suddenly coming down with cholera this time around? In the views of Lagos State Commissioner for Health, Dr Jide Idris, it is a shame that the country is experiencing cholera in the 21st Century because people are yet to understand personal hygiene. Cholera, according to medical experts, occurs primarily as a result of poor hygiene. People acquire the infection by consuming contaminated water, seafood, or other foods. Once infected, they excrete the bacteria in stool. Thus, the infection can spread rapidly, particularly in areas where human waste is untreated.
The UNICEF Water Sanitation and Hygiene, WASH, specialist, Drissa Yeo, said that lack of safe water and poor sanitation are important risk factors.
Yeo said for a cholera outbreak to occur, there must be significant breaches in the water, sanitation and hygiene infrastructure used by groups of people, permitting large-scale exposure to food or water to Vibrio cholera organisms; and cholera must be present in the population.
"Cholera is life- threatening. If you get contaminated with cholera bacteria and you do not  receive appropriate treatment within 24 – 48 hours, you can pass on.   Dysentery can give you some time to take care of yourself but not cholera," he noted.
Yeo explained that whether a community has a borehole or not, with open defecation, handmade wells are not protected because they are prone to external contamination and therefore do not qualify as potable water.
He maintained that prevention of cholera can be achieved through basic water sanitation such as boiling water of unclean sources. "Wash your hands with soap and water frequently and thoroughly especially after using the rest room to prevent cholera."
Investigation by Good Health Weekly in some areas of Lagos show that  contamination risk is high as almost every part of the Mega City is soiled with dirt. A visit to some affected areas  revealed the looming danger due to unhygienic conditions. From the roadside food vendors, blocked gutters, open sewages and people eating in unhygienic conditions, there are fears that a repeat of the 2017 cholera episode that the suspected source of infection was a local salad popularly called Abacha, and some domestic wells, may happen again if the state government fails to take urgent action.
A visit to Gutter, Isale Eko area of Lagos Island confirmed why Lagosians may be preparing for possible cholera outbreak. From Kosoko, Oke Arin down to Offin and Bankole, human faeces littered the area.
At Enu Owa, Adeniji Adele areas, it was the same story.  Good Health Weekly gathered it was the norm there.  Residents channel their sewage into the gutters as most houses in the area have no sewage disposal system.
Some  residents who spoke to Good Health Weekly, disclosed that rain remains their major saviour as it helps to wash the faeces away from the gutters. Sadly, in the face of this unhygienic condition, food vendors and other traders go on with their businesses.
A trader at Idumagbo Street who identified herself as Mrs. Zainab Salau said residents are used to the situation.
"I only come here on daily basis for my business; we are used to the faeces because we see it every day in the gutters. Our major challenge is on Thursday during environmental sanitation instead of us to bring out the nylon from the gutters, it is faeces our rakes will bring out," she stated.
Another resident at Enu Owa who identified himself as Mr. Ibunkun Aina identified four different storey buildings in Enu Owa that have no sewage system.
"The landlords usually explain the condition of the houses to the tenants  before renting and because the houses are cheap, people will still rent them ."
Another pathetic story was the sight of a nursing mother with her two children in Ebute Ero, preparing food in an unhygienic area. The woman who gave her children snacks (cheese balls) to keep them busy, cared less about the unhygienic area.
When our reporter confronted her, she disclosed that she has been in that area for more than five years and none of her children had fallen ill. What I do is to make sure I cook my food very well before I serve my family. We have been eating in this environment for years."
Another woman, who spoke under condition of anonymity, claimed that most occupants of the buildings around the area normally flush their toilets into the gutters as early as 5:00 am. "We have complained to the landlords, and if you complain too much, he will tell you to leave his house. Since we have  no alternative for now, the only thing we can do is to flush it very early in the morning."
An Environmental Health Officer in the state who spoke to Good Health Weekly under  condition of anonymity said lack of toilet facilities in Lagos Island has been a long term problem.
"We have tried  to stop them but the fact remains that, this thing has been in existence for long. As you can see, many houses were built close to each other to the extent that there are no space to build toilets where faeces can be dislodged.
Another visit to Ebute Metta area of Lagos revealed more hopeless situation as a three-storey building located at No. 6 Olaogun Street Apapa Road, opposite Mobil Filling Station, channels the sewage  into the gutter and environment littered with refuse.
The situation along Mile 2-Apapa Oshodi Expressway leaves much to be desired. The  expressway and the newly built railway  have been overrun with faeces and heaps of refuse.   Yet, people eat around  these areas.
Reacting to the situation, a Public Health Expert, Professor Adedeji Onayade who noted that there are so many things wrong with the approach of Nigerians to hygiene, said "as long as we don't pay attention to our environmental sanitation and sources of water supply; we are likely to have cholera.
"Another big challenge is the way cholera is being managed in the country.  Cholera is not something you manage in the hospital because if you visit many hospitals, they are not in position to manage cholera because they have no facilities in terms of sanitation.
"Many health facilities in Nigeria do not have water, everybody is scooping water from one container to wash hand, under such circumstance, a hospital can be a source of dissemination and it is dangerous.
"What government and medical personnel supposed to do is to move to the affected community, address the source of cholera and treat affected patients without necessarily taking them to hospital."
Onayade  added that cholera is mostly transmitted through water, so anything that can cause water pollution or usage of water that is not wholesome may promote cholera.
"The fact remains that cholera ought not kill anybody again with developments in medicine. Once people start showing symptoms they should be administered oral hydrations which can prevent death.   To prevent cholera people should maintain person hygiene and make use of good water. If you are not sure of source of the water, kindly do away with it," he added.
Health watchers, however, queried why seasonal outbreaks such as cholera should catch the Nigerian government unprepared.  They recommended that with proper and functional surveillance in place, the country should be in position to track diseases and prepare the citizens to reduce number of outbreaks and fatalities from the diseases.