..Based on the book, The President That Never Ruled
By Osa Amadi, Arts Editor
MKO Abiola's image has for so long somewhat undermined and overshadowed the full contribution Kudirat made to democracy in Nigeria. Even before she was killed, she had been blamed by some people for egging her husband to refuse to relinquish his presidential mandate which led to his liquidation by Abacha and the Nigerian Army. But from Jamiu Abiola's two books,  The President Who Never Ruled  and  The Stolen Presidency,  we are able to understand that she was rather a restraining force and voice to MKO Abiola.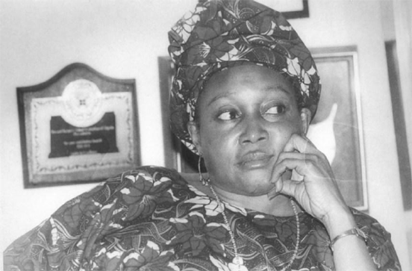 In fact, Kudirat took leadership of the struggle, not because of any ambition to be First Lady, as some people had also wrongly insinuated, but primarily to save her husband from being killed in detention by Abacha, and then much later, to pry Nigeria out of the grip of one of the most dangerous military dictatorships and rotten governments ever known to man.
Jamiu's candour in narrating his father's political ordeal and tragedy is probably the unique selling point of his two major books on the June 12 subject. He revealed in writing, a lot of personal uncomplimentary characters of MKO which few Nigerians, if any, would ever be willing to even mention about their parents, whether dead or living. Elsewhere, in certain moments of emotional overflow, Jamiu would without restraint or humility pour eulogies on his father and mother, two unarmed prophets who confronted armed beasts with bare hands and both paid the supreme price for daring the lions in their dens.
The Stolen Presidency,  The President Who Never Ruled, the Abacha and MKO Abiola story are classical studies on the corroding effects unbridled ambition for power, fame and worldliness have on the human soul.
From these narratives, one cannot but conclude that if MKO Abiola had heeded his wife, Kudirat's advice, he probably would have still been alive today, possibly as former president of Nigeria of two terms. "All you need is time," Kudirat had told him, and kept repeating, at one of the high points of his emotional buildup.
"You need time. Anything you do now out of desperation will be clumsy and desperate. It will weaken you and strengthen your enemies, keeping in mind that your enemy is not only Abacha but his spies and cronies, some of whom are your friends," she said, (page 127).
What a golden wife with golden words of wisdom. She told her husband that time and God, not money or anything else, were what he needed at that point; that if he calmed down and allowed God and time to do their works, the illegal military government will make costly mistakes (like the illegal interim government) which will bring it down leaving MKO as the beneficiary. "God might delay but he never forgets," she told him.
On how to comport himself in scheduled meetings with his friends and associates who had become wolves in sheep skins, Kudirat admonished him: "The last thing you want is to appear desperate in front of people who are plotting against you. Remain calm and let them do all the talking. Don't try to win back anyone who hints that he wants to join the government. That way, you will preserve your honour…."
"No!" MKO roared. "I will give them a piece of my mind! They are traitors and must be treated as such!"
After thinking it over for a while, she said to him gently: "They will deny betraying you if you do that and will then use your accusation to justify the betrayal they are planning. Beside, not all of them are guilty, so don't make the mistake of accusing them blindly (and collectively).
She moved closer to him lovingly. "Be calm with them in order to retain your authority. This will be rightly interpreted as a sign of strength and superiority," she said.
After her husband was taken away and kept in solitary confinement, we see a lioness, a wounded lioness charging and roaring across the length and breadth of the land fighting her husband's enemies in every way she could and trying to release him. We also feel her pains, her helplessness and her loneliness when she realised that the western governments were not going to help MKO; that all they were interested in was Nigeria's oil. At one point she became confused and voiced out: "I feel like I have been blindfolded in this battle. I am risking my life, an action that can make my children orphans, yet I don't know whether the man I am fighting for is still alive (or not)." No one, not even Kudirat was allowed by Abacha to see MKO Abiola.
A true warrior, she was clearly aware that her life was in danger, but she entertained no fear. She once stopped her car on the middle of the road after her driver told her several times that they were being tailed by Abacha's goons. She walked back to the car that was tailing her and spoke to the men inside: "Tell your boss that he ought to be ashamed of himself for sending a bunch of men to tail a woman!"
Her children who resided in the United States also saw the approaching danger to her life and tried to persuade her to leave Nigeria and come to US, but she would not get herself to abandon her husband. "What will happen to your father if I leave? Maybe you don't know that it is the noise that I am making here in Nigeria that is keeping him alive." Poor woman. She died for her husband and her country. I believe Kudirat is the real hero, not MKO Abiola!
She rejected huge sums of money in dollars which Abacha offered her through his agents and later oil blocks to get her to give up the struggle. And when her elder brother, Mr. Debo Adeyemi, visited her again, this time with an important piece of inside information from Abacha's government that her life was in grave danger, Kudirat cried out to her brother: "I am not happy about the situation that I have found myself but things have gone too far for them to be reversed. Besides, not all warriors go to war and return alive." The same way her husband had been motivated by Nelson Mandela, Kudirat had also drew her fighting inspiration from Winnie Mandela. "Based on recent history," she later said to Adeyemi, "governments, no matter how brutal they are, never kill women. Do you remember the Apartheid government in South Africa? Winnie Mandela fought that government for decades and she was never killed."
But she was absolutely wrong! It never crossed her mind that she was not dealing with a human being but a devil and wild beast called Abacha. On June 4, 1996, while she was going to keep an appointment with the Canadian Embassy, Abacha's killer squad led by his hit man, Sergeant Rogers (we now know), intercepted Kudirat's car and machine-gunned her and her driver, Dauda. It was a professional job. She was shot on the forehead. She died later in a nearby hospital, while Dauda died much later in the hospital.