Accuses late politician's'closest friends' of abandoning them;
Obasanjo should be jailed if…—Oshiomhole
By Omeiza Ajayi
ABUJA— It was an emotional night of tributes, yesterday, in Abuja at a banquet organised by former Edo State governor, Comrade Adams Oshiomhole, and  unionists in honour of late human rights activist, Chief Gani Fawehinmi, SAN, and acclaimed winner of  June 12, 1993 presidential election, late Bashorun MKO Abiola.
At the event, daughter of the late Abiola, Hafsat Costello, spoke of how some people they considered close friends of their father abandoned them when the June 12 controversy began, only to start calling the family's phone lines since last week when President Muhammadu Buhari proclaimed June 12 as Democracy Day and conferred a posthumous award of the Grand Commander of the Federal Republic, GCFR, on the late democrat.
"MKO had friends who seemed like friends but they disappeared when the problems started and only started calling us when this award thing came last week. The phones have been ringing, but 25 years is enough to know your friends. I want to thank Mr Femi Falana, Prof. Pat Utomi and a few others for standing by us in the past 25 years," she said.
Abiola's classmate betrayed him
In a veiled reference to former President, Chief Olusegun Obasanjo, Hafsat spoke of how a former school mate of her late father, who had benefitted from his generosity, was the first to declare that Abiola was not Nigeria's messiah and then went on to become President and refused to honour his late friend for the eight years he was in power.
She said: "There is another story. MKO had this classmate who he used to assist, even to pay his fees in school but after June 12, he was the first person to say that MKO was not the messiah. And he was President for eight years and couldn't even mention MKO for once. He couldn't honour him.
''We thank Buhari for this. He does things differently from the way the average Nigerian elite does things.
''If there is anything that means a lot to me, it is because MKO was true to the Nigerian people. If he had betrayed that mandate, he would have died a broken man and no amount of wealth would have made him happy.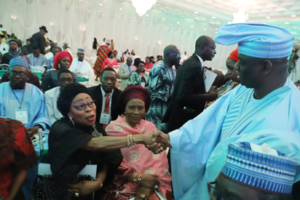 "I have just been thinking about MKO. To have known him was to know greatness in the body of a Nigerian. MKO came from a very poor family. He used to be a singer, a drummer and boxer. People just gave him money not because his voice was good, but perhaps they just took pity on him, a destitute singer."
Obasanjo should be jailed—Oshiomhole
At the event which was chaired by Mr Femi Falana, Oshiomhole also praised Chief Frank Kokori for standing up to dictatorship when it mattered most.
This was as he weighed in on the face-off between President Buhari and Chief Obasanjo, asking the former to investigate and prosecute the latter and ensure he goes to jail, should he be found to have dipped his hands in the pie.
"Gani is not here today, but his spirit is here. Falana is here and today, I am standing. Even the President who was in charge then, he is now complaining that they want to harass him. He was harassing me and he got me arrested. He thought he himself would not be arrested?
"If I were the President I would arrest him. We are all Nigerians. I remember one day I told him, I said 'President Obasanjo, we made you President. You did not make me a Nigerian. You are our creation, I am not your creation. You must listen'.
"But he thought he would be in power forever and he tried to take us on the way to Zimbabwe. He was a reluctant Head of State, became president for two terms and he wanted to do a third term because a cockroach licking palm oil would never lick enough."
While Mohammed Fawehinmi led five of his siblings to the event, Hafsat also led some of her siblings.
In his response, Mohammed said: "I am overwhelmed by this event organised in honour of my late father. It has made me to recognise that we should not always think of ourselves but of our neighbours. My father was a very unusual man."