Veteran journalist, former governor of Ogun State and senior leader of the All Progressives Congress, APC, Aremo Segun Osoba was an integral part of the Chief MKO Abiola 1993 campaign and was virtually with him throughout the campaigns and was with him in the plane when the annulment was proclaimed.
In this interview conducted before President Muhammadu Buhari's statement confirming Abiola's victory in that election, Aremo Osoba gives a firsthand account of the events at that time. Excerpts
By Emmanuel Aziken, Political Editor
How would you rate the June 12, 1993 presidential election among other presidential elections before and after it?
We will be belittling the outcome of June 12 election if we start making comparison. June 12 was totally unique by itself, it was unprecedented in the history of Nigeria. It has not been replicated since.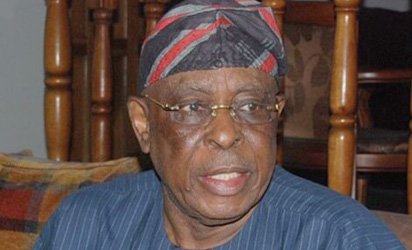 Some of the reasons I say these include the fact that those who organised the election were not looking forward to a successful one.
The entire nation rose in unison virtually to conduct the election, police the voting and insisted on correct results all over the country. Many of those who had never voted in their lives and who probably had not voted since then came out on June 12. Among them were professionals, elderly people, academics, critics who would not normally vote, all came out. Students mobilised massively.
Some of these milestones have not happened again. It didn't happen before then and it has not happened again and that is why I said that we should not belittle June 12 by comparing it with other elections.
So what was the framework that caused people to come out like that?
From independence in 1960, the military was in government for more years than the civilians, so the anti-military fervour was so strong that people just wanted the military to leave, people were tired of the military who were at different times staging coups against themselves; there were more coups against the military government than there were against civilians.
Among the military, they were virtually recycling themselves in power and Nigerians became very determined to end military rule and that was a major way of showing that they were just fed up and wanted the military totally out of the governance of the country.
What do you mean by the claim that those who organised the election didn't want a successful outcome?
The arrangement on ground was not really total. I was governor at that time. I knew that personnel were not strong on ground, materials in some cases came a little bit late but the people filled in the gap.
In some cases educated people and students all over the country virtually filled the gap to ensure that the election was conducted successfully.
Did the personality of the candidates reflect in the enthusiasm of the voters?
Off course yes. MKO Abiola had over the years pulled substantial stakeholders to himself. He had over the years been involved in many philanthropic activities; he had over the years donated to virtually all the institutions of the country one form of project or the other. Another aspect of it which many people may not have observed but which I noticed during the campaign because I went with him round the country, was that everywhere he virtually had in-law relationship with many communities in Nigeria!
You get to Igbo land, you get to Ijaw land, you get to Bornu, everywhere, and they were saying he is our in-law. In a way, he also entrenched himself so that professional bodies that had asked donations from him, student unions, market women all felt that the man had played important roles at different times in their lives. I could say he had laid a strong foundation for his integration with people over the years and that worked for him at the election.
He didn't spend as much as people thought he spent. He was a very frugal person, not a wasteful spender, he wasn't throwing money around that easily when we were campaigning. If he were the one to fund what happened on June 12, he would have needed many Central Banks bankrolling him, but a lot of communities rose in support.
Some of them he had influenced developments in their areas, so that helped.
Was the election successfully concluded in your state?
Yes, fully concluded. We had results from all over the country. He won the election.
I hate our media colleagues saying presumed winner and such adjectives to disqualify his success. He won clearly and Adamu Ciroma used the phrase then, fair and square. He truly won the election.
So, why was it derailed?
I am not the one to answer that question. That is still a mystery. You should go within the military to find out why.
Did you see Abiola winning the election as a personal venture for you being the governor of his state at that time?
It was not a question of personal venture at all. In all fairness, the two party system had been perhaps the best model in this country. It is unfortunate June 12 happened, and I was a participant. The two party system found the progressives all converging into SDP and the rightwing, the conservatives all in NRC. The interesting part of it was that throughout the period from local government election up to governorship election, National Assembly election, nobody cross-carpeted from SDP to NRC or from NRC to SDP.
It was purely ideological in colour and I wouldn't have been comfortable in NRC because I am not of the extreme right and conservative tendency. I am a welfarist of the Awolowo philosophy. I will therefore say that it was based on ideology and party structure.
Why do you say that it is unfortunate June 12 happened?
I say it is unfortunate because had we continued with many of the models instituted by Prof. Omo Omoruyi and his team, (Centre for Democratic Studies) we would been far better in this country. We would have had a more successful civilian government, a less corrupt civilian government because one; they introduced what they called open balloting which people misconstrue as Option A4. With that everybody queues behind who they want to vote for and it is so transparent, no quarrel.
The Option A4 that people talk of referred to four levels of election to the presidential.
It meant that you must win in your ward first, win at the local government, second level, win at the state, third level and then win at the fourth level which is the national convention. So you ought to win at four levels to become a presidential candidate; that was Option A4.
The two party-system if it had continued was a really close race and government would have been changing hands because between us then, it was a difference of two governors between SDP and NRC. We SDP won the National Assembly, NRC had more governors but we went on to win the presidential election. So there was reasonable balance.
That is why I said it is unfortunate because if the military had not annulled June 12 what was put in place then was a strong democratic system that would have lasted for a reasonable period and we would have had two major parties based purely on ideology and programmes.
So, how did you receive the news of the annulment?
Shocking. We went for the burial of the father of Gen. Shehu Yar'Adua. We were airborne and on our way back to Lagos when the pilot told us that something had happened about the elections and the results had been stopped. But before then, after the burial when we paid a courtesy call on the governor of Katsina, Saidu Barda, the emir of Zazzau had called MKO and asked him to listen to the radio. I think the emir of Zazzau had a hint of what was coming.
So when the captain said so, confusion arose in the aircraft. Some said we should not come to Lagos, some said we should go to Akure, some said we should divert to Ibadan, but Abiola insisted that if he cannot go back to his home where else will he go to as he insisted we should land in Lagos.
As soon as we landed, we came to the reality that the election had been annulled and all of us who went with him scattered into different directions. There were governors, National Assembly members, his vice-president, Kingibe and as soon as we landed everyone scattered to different directions.
A few people and I followed Abiola to his house because there was so much confusion.
They were afraid?
I would rather say shock. It was shocking. I think that for a lot of people their minds were not settled to congregate anywhere. Everybody was in shock.
How did Abiola receive the news?
He was calm. He remained calm and was optimistic that he would do something about it.
So, what did he do?
After a time, he called a meeting and we started thinking of what to do. But by then, the military had started infiltrating the hierarchy of the SDP and NRC.
How?
Some of our leaders started negotiating with the military on either a repeat of the election or formation of a national government. Some in the NRC were saying that they would never allow and started aligning themselves with the military action on the election which they lost and that was what Abacha seized on; the lack of unity and the lack of protection of the gain of democracy as enunciated through the June 12 election amongst all politicians. Abacha seized on it.
What were the options considered by you in those few hours after the annulment?
All of us were in total confusion. There was no question of options. We were still wondering what could have happened, everybody wanting to find out first.
There was no question of options. It came as too much of a shock.
You were almost always with him, what options did he ponder since you were almost always with him?
I was with him, he asked me to go back to Abeokuta and start monitoring and using my network to find out what must have happened for us to think of the next step to take.
Did the military try to woo you from Abiola?
Of course, of course.
In what way?
I was lobbied that another election would hold and that the office of the president would still be zoned to the Southwest and possibly to Ogun State and which I dismissed immediately, immediately.
I was so upset that I had to tell the military in a statement that I was ready to leave the office of Governor for them to do whatsoever they liked. I wasn't one that they saw as ready to discuss any option and when some elders and chiefs in Abeokuta passed a resolution at the palace of the Alake of Egba Land insinuating that we should take Abiola and Shonekan and that when the bird in your hand becomes two that you don't throw the two away.
So, I asked what do you mean by two birds in your hand? There can only be one cup and I had to go on radio to dismiss such a resolution, that it looked to me as awkward. There was that situation on ground that even among us that a division started among us even among the Egba.
The man who won the election was an Egba man, the man appointed as interim head of state was also an Egba man and that again created problems for me in Ogun State. But I was ready to face everybody, I was fighting.
How did you relate with Chief Shonekan as interim head of state?
Chief Shonekan is more like a relation because my late uncle, Chief Albert Osoba was a close friend of Chief Shonekan's father and to a large extent there was a mentoring relationship between my uncle and Chief Shonekan.
So, I was resolute on my own part not minding what he was doing and I just decided to be what I wanted to be. There was no personal issue, it was not a personal issue, it was just a matter of one's conviction.
Did you talk with General Babangida between the annulment and when he left office?I had a short meeting with him and I said on this issue, I don't see a meeting point. We knew ourselves and he knew I was rigid on my conviction.
Did you see the annulment as something that was forced on him?
I am not in the military and cannot start defending what I don't know about.
You are now an elder-statesman, do you think in your lifetime we can see another election like June 12?
Definitely, highly optimistic because the amendment to the Electoral Act already enacted by the National Assembly if it is implemented, elections in this country will be better organised. Let me say that people are focusing too much on the sequencing of elections and have forgotten about all the other amendments, for example, they have introduced modern electronic system to the conduct of elections in Nigeria.
They have said that officers conducting election must do accreditation before elections, you must know how many people have come to register to vote and transmit the number of those accredited immediately by electronic system and failure is five year jail. After the election you must transmit the result and failure is five year jail, materials are now to be made open to all agents, inspections, certification and all that.
The electoral act is wide in the reforms that have been introduced and the amendments are fundamental to a better voting system in Nigeria.
Do you think that the actualisation for June 12 was well handled?
I don't like to start passing buck and blaming ourselves, there were too much emotions involved unfortunately and we underrated Gen. Abacha and we didn't have enough intelligence to study the man that we were dealing with and that was a major setback.
There was the reasoning that Abiola was advised to go abroad and not to do the Epetedo Declaration and that that would have been better.
I am one of those convinced that it would have been better for him to have gone abroad.
When you are dealing with a ruthless person like Abacha, when we didn't have the wherewithal to face his own firepower and the killings? I was almost a victim. Thrice they tried to kill me, Sergeant Rogers. They made two attempts to kill me, the number of high powered killings and we don't know how many were not high powered, who were not at the level of Rewane, Abraham Adesanya, Alex Ibru and all those that died unsung. We underrated the situation and maybe if he had been abroad.
A final word from you sir, 25 years after?
I am sad because I was talking with one of the Abiola children, because Nigerians just do symbolic remembrance. We just go there and forget. Abiola's family has been abandoned unfortunately. I was talking to one and said your father awarded scholarships to so many people, created professorial chairs and nobody has bothered to ask how the children are? It is a sad thing for me on a personal note.
I have virtually attended the weddings of many of his children and acted as a father to them and they are all shadows of the children of MKO that I used to know. I feel sad on that note. All these celebrations that we have been doing, why is it that nobody has thought of setting up a foundation for them. The man had many children but they have all been left to themselves!