By Jacob Ajom
THE Executive Chairman of Amuwo Odofin Local Government Area in Lagos, Engineer Valentine Buraimoh has said that engaging the youth of the country in sports was the surest way to keeping them out of social vices and making them useful to themselves, their families and the country at large.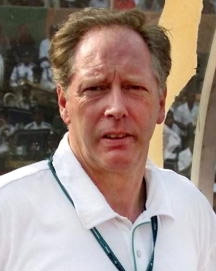 Speaking to Sporting Vanguard during a special dinner he held for former Nigeria coach, Johannes Bonfrere at the Golden Tulip Hotel at FESTAC Extension, Engineer Buraimoh said his council was pursuing the goal of attaining mass participation in sports by youths in the LGA as his regime has introduced what he called, "a mini-Olympics."
He said, "Sports featuring in the Amuwo Odofin Games include Cycling, Volleyball, Basketball, Athletics, Swimming, football and more. We hope to use the games as a platform for our teeming youths to showcase their talents to the scouts who are here from outside Nigeria."
The LGA boss disclosed that he invited Jo Bonfrere to watch the games and serve as a link between his local government and foreign clubs where talents picked from the games could go for trials and possible engagements by the foreign clubs.
"Bonfrere's presence is going to take our football to the next level," he said, adding, "the players are bound to up their game when they realise that foreign scouts are around.
"On our part, we hope to explore this connection and see how we can expose our youths and help them attain greater heights for self, family and country."