I'll ensure APC becomes one family again — Oshiomhole
By Simon Ebegbulem
ABUJA — AHEAD the  June 23 National Convention of the All Progressives Congress, APC, Comrade Adams Oshiomhole who received the endorsement of Prof. Osahrimein Osunbor Thursday, said if elected as Naitonal Chairman of the party, he will ensure that the APC becomes one family again, by ensuring that past leaders of the party are given their due respect.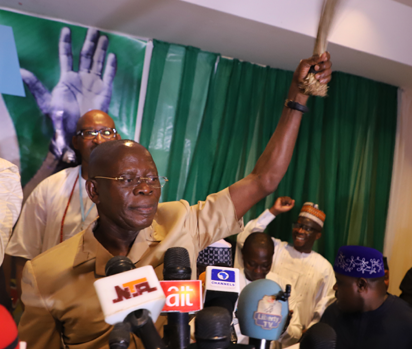 Oshiomhole who was reacting to an appeal by the former governor of Abia State, Dr Orji Uzo Kalu, that Oshiomhole should endeavour to show respect to members of the National Working Committee, NWC, of the party who may not be returned on Saturday, said part of his plans is to make APC one family again.
Orji was at Oshiomhole's campaign office in Abuja to back his aspiration yesterday.
According to Oshiomhole, "just last night I have been thinking about all the issues in the party and the need to ensure peace across board.
" I have thought about it that there are things we do need to formalize in the party, that the system of compensation is not based on adhoc, or the mood of the moment. We have to have policies that specifies privileges and the benefits that one is entitled to when you have served meritoriously for four years so that whether the successor is bias or not it is under obligation to show respect.
"In the sense that he who envy the privileges of the elderly people in the community, they are praying against old age. So if any one show respect to past leaders, I will be laying foundation that will be used when our reign ends. So I accept that we need to have a happy family and we will ensure that happens."
Speaking further on his relationship with the former governor of Abia state, Oshiomhole narrated that " the then President Olusegun Obasanjo fought both of us but we defeated him. I can tell you when I was rigged out in 2007, the then chairman of the EFCC, Ribadu and the then Minister of the EFCC El-rufai,  went to see then President Olusegun Obasanjo to say that he should allow my election to stand, if I am rigged out it will discredit the entire administration.
Earlier, Kalu said: "I came to wish you well. I also want to continue to plead with you that all past NWC members who are not returning, so they will leave with respect so that the day you will leave there people will also respect you. I came to tell you that the people of Abia state and the entire South East are behind you. That you will do well as our chairman and God be with you."
Relocating to  Abuja
Meantime, elders and prominent leaders and people from Edo State have virtually taken over Abuja ahead of the National Convention of the All Progressives Congress, APC, holding in the Nigerian capital on Saturday.
They are in Abuja to demonstrate solidarity with Comrade Adams Oshiomhole, the immediate past governor of the state, who is contesting the National Chairmanship of the APC at the convention.
Among prominent leaders of the state that had arrived Abuja as at Thursday were Governor Godwin Obaseki, the Deputy Governor, Philip Shaibu, state chairman of the party, Anselm Ojezua, state Secretary, Lawrence Okah, Senator Domingo Obende, Senator Ehigie Uzamere,   EJ Agbonayima and the entire leadership of the APC in Edo State.
Many of them besieged the campaign office of Oshiomhole at Asokoro singing solidarity songs. Shaibu who spoke to Vanguard, said: "He is our father so we have no choice than to relocate the seat of power from Edo to Abuja temporarily to give support to the father of modern Edo state, Oshiomhole".
Also speaking, state chairman of the APC, Barr.Ojezua explained that, "You know when you have a good product, you really have no much marketing to do."
From the onset I have always maintained the fact that the party needs Comrade because we are at a time when so much has happened in the past four years and by reason of our constitution this is a good time for us to prepare because next year we are going to elections and the last time we spoke I told you that we need a warrior because we are going for a battle.